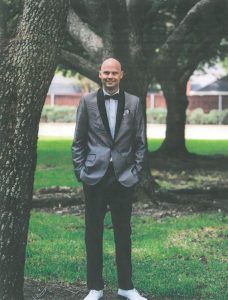 Todd Christian Decker, 39, a resident of Pearland, TX, passed away on October 28, 2022, in Pearland, TX. He was born in Honolulu, HI on March 21, 1983. Todd graduated class of 2001 from Friendswood High School. He served in the Pocatello, ID mission for The Church of Jesus Christ of Latter-day Saints. He began a career in pest control and opened his own business, TRUClear Pest Control, in 2012. He married in June 2018 and was sealed in February 2022 in the Houston Texas Temple. He enjoyed telling dad jokes, singing out of tune, photo bombing, and silly dance moves. He was a game and sports enthusiast. Go Braves! He loved to make people laugh most of all.
Todd leaves behind, his wife, Nastacia; son, Lincoln; parents, Ron and Sandy Decker; father-in-law and mother-in-law, Brent and Pamela Dunford; sisters: Traci Alexander, husband Scott, Nicole Richner, husband Glenn, and Angela Hatch, husband Josh; brothers: Travis Decker, and Justin Decker; numerous nieces and nephews; uncles: Wayne Peper, wife Mary, and Curtis Decker.
Visitation will be on Friday, November 4, 2022, from 5 p.m. – 8 p.m. at Crowder Funeral Home in Pearland. A service will begin at 11 a.m. Saturday, November 5, 2022, at The Church of Jesus Christ of Latter-day Saints, 9529 Magnolia Parkway Pearland, TX 77584. A private family burial will be held at a later date.
Pallbearers will be, Travis Decker, Justin Decker, Glenn Richner, Wayne Peper, Kristian Dunford, Joseph Bradshaw, Sean Gill, Charles Smith, Scott Alexander, Josh Hatch.