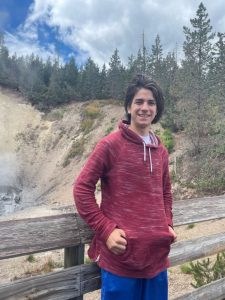 Thomas Seth "Tommy" Rabalais passed away on Sunday, May 22, 2022 in Webster, TX. at the age of 21. Thomas was born on April 16, 2001 in Houston, TX. His parents are Mark Thomas and Lisa Rabalais.
One of the kindest people, the most genuine heart, he loved deeply, he made everything fun, the happiest kid with the most contagious smile, charming, handsome, always right! (even when he was wrong), creative, gave the most genuine hugs, hated to lose!, brilliant, loved to sing, engaging, adventurous, stubborn (pig-headed), always eating (bottomless pit), loved to cook (especially popcorn), loved learning new things, always kind and thought about everyone else, could brighten up any room, kid at heart! Best friend. These are just a few ways the people close to him would describe him.
Thomas grew up in Friendswood. He attended school in Friendswood and at Bay Area Christian School. He graduated from Friendswood High School in 2019 and went on to Texas A&M University. He was involved in choir, cross country, track, honors programs and health science programs while in school. He grew up attending Bay Area Church. He came to know Christ when he was 9 years old while with his mom and dad. Thomas had a genuine heart of service and had opportunities to serve others on mission trips, vbs and service projects over the years.
Thomas loved deeply and was deeply loved. He has left an imprint on so many lives and will be forever missed by those who knew him.
Thomas is preceded in death by great grandparents Leo and Louise Rabalais, Woodrow and Doris Fogleman, E.M. (Sonny) and Gwendolyn Brown, and Harold and Ethel Moses.
He is survived by brother Grayson, sister Caroline, parents Mark Thomas and Lisa Rabalais, birthparents Max Gonzales and Amanda Judge, grandparents Tom and Phyllis Rabalais, Michael and Ruby Brown, Doug and Cindy Blaire and Ricardo Gonzales and Catalina Colmenares. Uncle John and Aunt Brandi Rabalais and cousins Ethan and Mason Rabalais. Uncle Mark and Aunt Melinda Brown, cousin Madeline and many other loving family and friends.
In lieu of flowers, donations can be made to Life Tree Counseling Center at https://bayarea.church/give/or New Life Adoptions at https://www.newlifeadopt.com/donate . Please specify in memory of Thomas Seth Rabalais.
A visitation will be held at Bay Area Church, 4800 West Main Street, League City, Texas 77573, Saturday, May 28, 2022 from 10-11am following with a funeral service at 11am. Burial will be held at Big Cane Baptist Cemetery, Big Cane. Louisiana on Sunday, May 29, 2022 at 1pm.