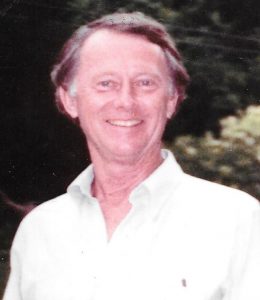 Tom Webb died peacefully on Wednesday February 22, 2017, surrounded by loving family and friends.  He was born in Tracy, Minnesota to Harry K. Webb, Sr. and Sybil Conroy Webb and grew up in Minnesota and San Antonio, Texas. Tom attended the Texas Military Institute in San Antonio and graduated from Alexandria High School in Alexandria, Minnesota.  He attended the University of St. Thomas in St. Paul, Minnesota for 2 years before serving in the U.S. Army during the Korean War.
Upon return from active duty, Tom joined the family business, The Webb Oil Company, and successfully operated the business until operations were disrupted after the Arab Oil Embargo.  Turning in a new direction, Tom began building custom homes in the Clear Lake area.  In 1982 he built a home for Sandra Evans, and after several years of friendship they were married in 1987, beginning a long and happy marriage.  In retirement Tom and Sandy traveled extensively in his boat EASY, exploring the waterways of the Gulf Coast and East Coast of the U.S.
Tom served his community through several terms as a Clear Lake Shores City Councilman and two terms on the Water Board WCID#12.
Tom was preceded in death by his parents and by his brother Harry and his sister Virginia.  He is survived by his wife Sandra and children Arthur F. Evans IV, and Jennifer Evans Matwijiw and husband Evan, grandchildren Arthur F. "Rick" Evans, Rachael Ann Evans, and Will Henry Salbert, nieces Lizann Webb and Camille Yates.
Tom loved his wife and family.  He loved to travel the waterways on his boat.  He loved cats.
We will all miss him.
THOMAS JOHN WEBB
1931 – 2017
WAKE
Remembering Tom Webb
3 – 5 PM
Saturday March 4, 2017
South Shore Grille
2800 Marina Bay Drive
League City, Texas
FUNERAL
2 PM
Monday March 6, 2017
St. Thomas Episcopal Church
4900 Jackwood
Houston, Texas 77096
(a block off Loop 610 in Meyerland area)