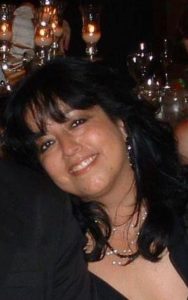 Theresa Ann Lopez, age 66, went home to the arms of the lord on January 14, 2022. She is survived by her devoted and loving husband of 45 years, Jose Lopez. Her children who she called her "heartbeats" Michael Lopez and wife Cassandra, daughter Joanna Lopez, son Gabriel Lopez and two grandchildren who she loved beyond measure, Michelle and Marcus Lopez.
She was born in Houston, Texas on March 29, 1955, to Charlie and Elva Lopez and was one of ten children.
She is preceded in death by her father Charlie and survived by her mother, Elva; sisters: Yolanda Knight, Cecilia and husband Gary Hosmer, Martha and husband Ruben Cerda, Genevieve and husband Chris Natividad, Janie Jaso, Mary Bernadette and husband Victor Martinez and Mary Jo and husband Brian Kolb; brothers: David Lopez and wife Pauline and Richard Lopez and wife Barbara; as well as numerous nieces, nephews, cousins and relatives.
Fifteen years before she retired, she worked for the District Attorney's Office in the Post Conviction Writ Division which became her second family.
Theresa was a lifelong ardent Catholic. She did not just live her faith, but her faith was her life. She was involved in numerous ministries at St. Luke's the Evangelist Catholic Church, where she was a member of 28 years. She organized the Eucharistic Apostles of the Divine Mercy most recently. She taught CCE, Baptism classes and was involved in the English and Spanish ACTS retreats. She also loved attending different classes and helped teach numerous bible studies. She spread the word of Christ to everyone who knew her. To know Theresa was to know him.
Theresa loved to craft. She baked cakes and made jewelry. She decorated her home for every holiday, especially Christmas with pride. She also loved to travel. Whether it was taking day trips with her husband or camping trips in the RV they owned. They enjoyed getting away and seeing new things. She loved her children and took so much pride in their accomplishments. She loved getting everyone together. Her hunger for life was insatiable. She truly lived with her whole being and spirit. Theresa always ran into people she knew in random places all the time; she was that unforgettable.
The viewing will be from 5pm to 8 pm at Crowder Funeral Home, 2422 E. Broadway St., Pearland, Texas 77581. Rosary will be recited at 7 pm on Friday the 21, of January 2022. Mass of the Celebration of Life will be said on Saturday, January 22, 2022, at St. Luke The Evangelist Catholic Church, 11011 Hall Road, Houston, Texas 77089 at 11:00 am. Burial to follow at Forest Park Lawndale, 6900 Lawndale St., Houston, Texas 77023.
The family would like to express deep thanks to everyone during this time to who kept Theresa in their hearts as they prayed for her and her family, donated food, meals and their time.
"Never forgotten, always remembered and loved forever."
Please click the link at time of rosary.