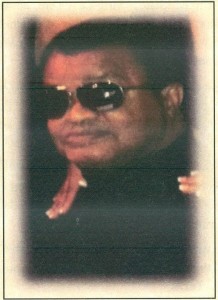 Funeral Service was held Oct. 28, 2015 at Crowder Funeral Home – Webster
Theodore Leon Fountain began life's journey on December 27, 1950, born the third child of the union of the late John Edward and Dorothy Louise (Robertson) Fountain in Philadelphia, Pennsylvania.
As a child he attended Emlen Elementary, Roosevelt Junior High, and graduated from Benjamin Franklin High School. After high school he enlisted in the United States Air Force where he was last based in Anchorage, Alaska. Later he obtained a Bachelor's of Science in Accounting from Washington State University and a Master's in Business Administration from Walden University.
Theodore accepted Christ as his Lord and Savior early in life. During his time her in Houston, he had been a faithful member of Bay Area Baptist Church, Bible Way Church and most recently Clear Lake AME Church. He exemplified his love for Christ in his loving and gentle manor. Despite life's trials, Theodore trusted God.
On November 19, 1984, Theodore was united in Holy Matrimony to Stella Louise Stallworth. Together with his wife he raised a step-daughter, Vernita Crosby (Davis).
Theodore was a faithful employee of Celanese Chemical for 20+ years. During his time with Celanese he lived in Corpus Christi, Bay City, and Houston., Texas.
He leaves to cherish the memory of his kind and gentle spirit; Stella (Stallworth) Fountain; Vernita (Crosby) Davis, four granddaughters; Shanise (Hurst) Embry, Veronica Johnson, Victoria Johnson, and Esha Taylor, three great-grandchildren; Skylar Embry, Kylon Dancy, and Jamisa Bella Moon, three sisters; Olivia L. Fountain (Philadelphia),  Marva A. Belmonti (Houston), and Andrea F. Rothmaller (Philadelphia),  one brother; Robert E. Fountain (Philadelphia), nephews; Elry and Theodore Belmonti (Houston), nieces; Dorothy Belmonti (Houston), Natesha and Alexis Rothmaller (Philadelphia), and a host of great-nieces and nephews. Nephews, Christopher Larry and Michael Fountain (Philadelphia) precede him in death.