Teresita Zamlut Hernandez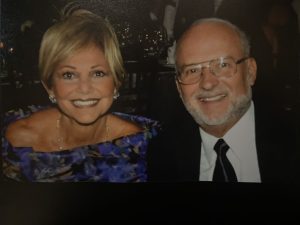 Our beloved wife, mother and grandmother, Teresita Zamlut Hernandez, passed away in her home in Taylor Lake Village TX, on the evening of July 23, 2023 at 80 years of age, after a long battle with pancreatic cancer.
Teresita was born on October 12, 1942, to Jorge Zamlut and Teresa Montero in the town of Cienfuegos, Cuba. In 1960, she and her brother Jorge were sent to the United States by their parents to escape the Fidel Castro Communist regime. In Miami, while working during the day, she attended night classes at her beloved University of Miami, where in 1964 she completed her degree in Business Administration majoring in Accounting. In December of the same year, she married the love of her life, Miguel Ángel Hernandez, Jr., at that time studying Mechanical Engineering at the University of Florida. Teresita and Miguel had met back in Cuba five years earlier creating an attraction to each other that survived in spite residing quite far apart. That instant connection turned into a love story that continued throughout their long and happy marriage of almost 60 years.
After working as an accountant, Teresita's career pivoted to her love for education so she could be closer to her two boys, Michael and Jorge. At the end of the Apollo program, NASA transferred Miguel from Florida to Houston, Texas. This was a very welcome move for Teresita who loved living in a metropolitan city providing access to a variety of cultural, sporting and recreational events. Teresita continued her career in education at the Alvin Independent School District as a teacher and later as Principal for Manvel Intermediate. In 1985, Teresita joined her husband in Europe where Hernandez Engineering had several contracts supporting manned spaceflight operations. This provided her the opportunity to travel through Europe, which led to a lifelong passion of worldwide travel and learning about other people's cultures. Upon returning back to Houston, Teresita joined the company and played a key role in its growth.
Teresita had an unequivocal thirst for life and a personality that would fill any room she walked into. Grace and elegance were synonymous with Teresita. No one was a stranger and she made friends anywhere. She was also a fierce competitor in dominoes and canasta, which she played often with her close friends.
Although she cherished her careers in education and business, her true passions were traveling, fashion, reading great books on the beach, and most of all, her family.
Teresita leaves behind her devoted husband, Miguel Ángel, her children and their wives, Michael and Joanna; Jorge and Rosi; her five grandchildren Christopher, Matthew, Alexandra, Nicholas and Andrea Victoria. She also leaves behind her loving brother Jorge, his wife Ixia, her niece Ilean and her husband Frank.
A funeral mass will be held in her honor at St. Clare of Assisi Catholic Church (3131 El Dorado Blvd., Houston, TX) this Friday, July 28th at 11 am. The family does invite any floral arrangements to be sent, however, friends are welcome to donate to MD Anderson Cancer Center in her honor.