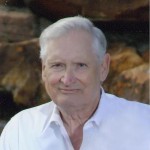 Ted, 72 of Tiki Island, lost his courageous battle with cancer on May 19, 2014. A Celebration of Ted's life will be held at 11am on Friday May 23, 2014 at First Presbyterian Church of Galveston, 1903 Church Rd.
Ted was born November 16, 1941 in Jackson, Mississippi to the late Clinton Kennedy & Zelle Kennedy.
Ted is survived by his wife Diana, of 50 years, daughter & son-in-law Kelli & Lyndon Parker, son & daughter-in-law Shawn & Andrea Kennedy, and five grandchildren, Mitchell, Garrett, Dillon Parker, MaKenna & Jaxon Kennedy, great granddaughter Liyla Parker. Siblings Phillip &Mary Kennedy & Pat Edwards. In-law siblings, Betty Rhoads, Joyce & Jake Thormahlen, and Carl & Linda Kuykendall .
Ted proudly served the public with 23yrs in the Navy/Coast Guard, US Sky Marshalls, Nueces County Civil Defense, and Emergency Management. He also owned a private investigation firm, was a member of the Masonic Lodge AFAM, and served in such roles as: Tiki Island Civic Association President, Retired Sergeant with the Galveston County Sheriff Department, Texas Admiral, Tiki Island Alderman, and Mayor of Tiki Island.
Beyond all he is remembered and appreciated as a dedicated son, husband, father, and grandfather that lead a large and close family with care, understanding, and compassion.
In lieu of flowers, the family has requested that donations be made to   Tiki Island Chapel or The Blue Bird Circle, 615 W. Alabama Houston, TX 77006