Tarcela S. Asuncion "Momsie"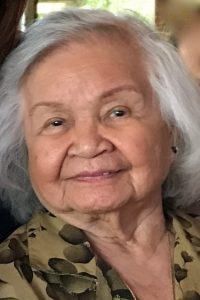 Tarcela S. Asuncion "Momsie" passed away on October 2, 2017.  She graduated with a Bachelor of Science in Commerce and was a Certified Public Accountant in the Philippines.  In 1977, she was employed as an accountant for the Minnesota State government and in 1979 as a research accountant in the University of Houston Systems Campus until her retirement in 1994.
Her loving husband Carmelo A. Asuncion, for 52 years, had passed away in 2009. They are both survived by their children, Maria Theresa and husband Robert Chin, Tina, Carmelo Jr., Chad and wife Monina Hilario, Cyril and wife Claudette Wilson, and grandchildren : Monica, Miranda, Maia, Carmelo, and Caius.
Public viewing is on October 6 Friday 6-8 pm (Rosary at 7pm), at the Crowder Funeral Home at 111 East Medical Center Blvd Webster Texas. A deacon service is on October 10 Tuesday 1:30 pm at the St. Bernadette Catholic Church at 15500 El Camino Real Houston Texas.  In lieu of flowers, her family requests cards.  Donations to the St. Bernadette Church will be very much appreciated by family.