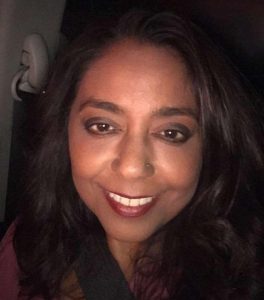 Suman Dutt DeVasier, 47, of Texas City, passed away Wednesday, April 28, 2021, in Houston, Texas. She was born January 10, 1974, in Nausori, Fiji Islands to Ram and Daya Datt. She was a resident of Texas City for over 44 years and graduated from Texas City High School. She was married to the love of her life Brian DeVasier for 30 years and had 3 children Emily, Madison, and Nicholas DeVasier.
She worked for TCISD and enjoyed helping children at Woodrow Wilson. She spent most of her time supporting her children at school events. She also enjoyed spending time with her family, watching movies, reading, planning family parties with many games. Suman had a bright and energetic personality and was known for her ability to sense when people needed her help. She filled people's hearts with her contagious laugh and kind personality.
She loved her many pets throughout her lifetime; her cat Klaus, her dog Gunner who she rescued when he was abandoned and walked into her garage, and her most recent dog Ozzy (aka. "Tiny Dog").
She was preceded in death by her nephew Ashneel Sharma.
Suman is survived by her loving husband, 3 beautiful children, and parents. Also sharing in the loss are her brother Anil Sharma, sisters; Reena Langdon (Randy), Kiran Olivo (Joe), Sareen Karan (Bob), Madhu Dutt, and her many loving nieces and nephews.
A visitation will be held from 3:00 pm to 5:00 pm, Sunday May 2, 2021, at James Crowder Funeral Home in La Marque. Services will be held at 11:00 am Monday, May 3, 2021, at the funeral home. Interment will follow at Mount Olivet Catholic Cemetery in Dickinson Texas.