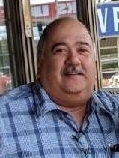 Steven Quintela of Texas City passed away Thursday April 21, 2022, at his home.
Steven was born on October 22, 1960, in Port Arthur, Texas to Zenon Sr. and Hortencia Quintela.  Steven moved to Texas City at the age of 10.  He attended and graduated from La Marque High School.  After High School, Steven joined Rockwell International Space Transportation System.  From 1979 – 1986 he was with Integrated Logistic Support and from 1986 till he retired in 2011, he was with the Shuttle Avionics Integration Laboratory (SAIL) as an inspector.  While working at Nasa, Steven was continuing his education from College of the Mainland, University of Houston – Clear Lake and Online with Ashford University.  He graduated with a bachelor's degree in Business.   Steven was a member of Queen of Peace Catholic Church, Society of Our Lady of Guadalupe, and Knights of Columbus Council 5236.
In his free time, Steven loved watching the Houston Astros play baseball or going to his property in Uvalde to hunt or just hang out with friends.  He called it his "Happy Place"; Even though his daughter and grandson lived in Tennessee. He loved them dearly and the mention of their names, his face would light up with pride and joy.
He is preceded in death by his parents, Zenon Sr. and Hortencia Quintela.  Steven is survived by his daughter, Nathalie Quintela Williams and her fiancé Brandon Cobb of Crossville, Tennessee, grandchildren, Brayden Jerome Williams and Isabellia Grace Cobb of Crossville, Tennessee.  Brothers, Zenon Quintela Jr and his wife Cynthia of Santa Fe, Texas and Mark Quintela of Round Rock, Texas. A Niece, Alisha Stanley and her husband Paul of San Antonio, Texas and a great-niece Mia Liv Stanley of San Antonio, Texas.
Services will be held on Saturday May 7, 2022, at 12:00pm at James Crowder Funeral Home in La Marque, Texas.  Entombment will follow at Forest Park East Cemetery in Webster, Texas.