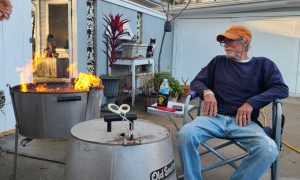 Steven Charles Taylor, age 63, slipped out of our arms and into the arms of Jesus while surrounded by family and friends. He worked as an electrician for over forty years.
Steve is now in heaven with his Daddy, Momma, and sister Sandy. He is survived by his wife, Leslie Taylor, daughter Audrey Taylor, and son, Joshua Petrash. He is also survived by his sisters Sharon Glass, Sally Casteel, and Sara Taylor, as well as many other beloved family members.
Funeral service Saturday, November 25, 2023, at 11:00 am at the First United Methodist Church in La Marque, Texas, with internment to follow at Forest Park in League City. In honor of Steve, the family requests guests to wear Dallas Cowboys, Texas Longhorns, Houston Astros, or any other sports jerseys or shirts. Reception will follow internment; details will be announced at the service.