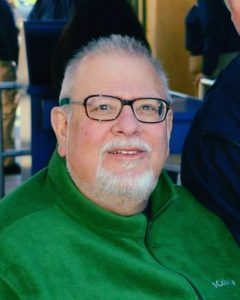 Steven Anthony Remollino passed away after a lengthy illness on Saturday, October 14, 2023, in Texas City, TX. He was born on February 22, 1962, to Joseph D. and Christine E. Remollino, both of whom predeceased him.
He was an English professor at College of the Mainland and previously taught at Dickinson High School, Galveston College, and O'Connell High School.
He is survived by his best friend and spouse, Earl L. DeGeer, Jr., sister-in-law, Sarah Remollino, brother-in-law, Brad Pelletier, and numerous cousins, including special cousins, Richard and Grace Ann Remollino. Additionally, he leaves behind his girls, MaiTai and MuShu and hoped that in the Land Beyond Beyond across the Rainbow Bridge he will reunite with his other special girls, Chynna, Jade, and Fifi. In addition to his parents, Steve was preceded in death by his sister, Tina Pelletier and brother, Joseph Remollino.
He asked there not be a memorial service and requested that in lieu of flowers donations be made to Bay Area Adoptions in San Leon, TX, the Crohn's and Colitis Foundation of America (CCFA) in New York, NY, or the College of the Mainland Scholarship Fund.