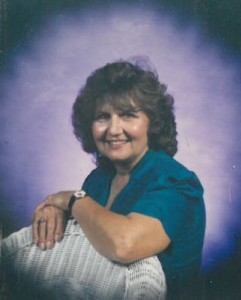 Stella Marie Thompson was born on November 18, 1923 in Houston, Texas to parents, Joseph Eugene Kuzel and Anna Marie Kostka. Stella is preceded in death by her sons, Robert Thompson Sr. and George Eugene Thompson. She is survived by her children Tommy Thompson, Richard Dean Thompson, William Joseph Thompson, and Bonnie Marie Carden Thompson. Stella is also survived by numerous grandchildren, great-grandchildren, and great-great grandchildren.
Stella spent most of her childhood playing and working on her families' farm. During her childhood young Stella would often make dolls out of corn husks, straw and old flour sacks. As a child she enjoyed acting, gymnastics, and playing instruments. She performed in plays at the local Sukal (Czech Recreation Center) while staying with her Aunt in Houston. Stella was active with the Czech community as a teenager and often stated that she was required to exclusively speak Czech to her grandmother when she was a child.
As a young adult Stella married George Thompson. She gave birth to six beautiful children, which filled her years with much laughter and cherished times. The Thompson's found a permanent residence in Texas City on Tarpey Avenue to raise their growing family. Stella enjoyed a career as a meat wrapper at Weingarten's Grocery Store. She was a beautiful, sweet-spirited, hard-working, loving mother who had a heart of gold. As a single mother, Stella labored diligently to care for her six children, working as many as three jobs at a time. Cooking and baking were some of her gifts that all the family delighted in during the holidays. For years Stella prepared the most amazing, delicious, homemade Czech kolaches, pies, and turkey dinners. Stella's love extended to her pets as well. She took care of her cats and dogs like they were her children; she considered them part of the family. Over the years Stella adopted numerous animals and gave them a loving home.
She believed in enjoying life and living it to the fullest. Stella was a huge fan of music and dancing. She often danced in the living room with her family when one of her favorite songs played. Stella appreciated the simple things in life. Many of her days were spent sitting on the back porch sipping a cup of coffee while taking in natures' beauty, visiting with family and friends, and recalling wonderful memories from her childhood. During her life Stella inspired many family members and friends with her vivacious personality, perseverance, and giving heart. She believed in God, and as a Christian, prayed over her children and family every day. Stella may have left this world, but her spirit lives on through her bloodline. Stella's strength, ingenuity, purity, and love flows in all of her family forever. She was an angel on Earth, now an angel in Heaven.
A Visitation will be on Friday, January 15, 2016 from 5:00pm – 8:00pm at the James Crowder Funeral Home in La Marque. A Graveside Service will be at 10:00am on Saturday, January 16, 2016 at Galveston Memorial Park in Hitchcock, Texas.