Stanley Robert Galanski Sr.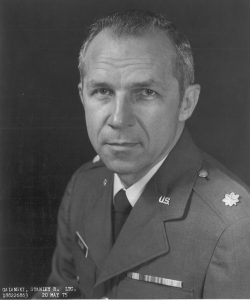 Stanley Robert Galanski Sr., 94, of League City, Texas, formerly of Houston, Texas, passed away on March 9, 2023, in League City, Texas.
He was born June 7, 1928, in New Castle, Pennsylvania, youngest son of John and Stella Galanski. Mr. Galanski was a member of St. Thomas More Catholic Church in Houston for over 40 years.  Professionally, he served as a Metallurgical Engineering Manager for Hughes Tool Company, until his retirement in 1988 after 34 years of service.
He is preceded in death by his wife (65 years of marriage) Katherine Galanski, two sisters, Judy and Dorothy, and his four brothers – Adam Galanski, Len Galanski, Ted Galanski, and Bill Galanski.  He is survived by his three sons and spouses – Stanley Galanski Jr. and wife Susan, David Galanski and Gerardo De Leon, and Greg Galanski and wife Kathy; grandchildren and spouses – Adair Winget and husband James, Mason Galanski, Chelsea Galanski, Leainni Thelen and husband R.J., and four great grandchildren.
He was an accomplished student, being the only one in his family to have gone to college – Geneva College, Pennsylvania, receiving a B.S. in Mathematics in 1950, Upon graduation, he enlisted in the United States Air Force (USAF) as a Staff Sergeant to attend the USAF Officer Candidate School (OCS) at Lackland AFB in San Antonio, wherein he graduated as a 2nd Lieutenant.  He held various assignments at Tyndall AFB (FL), and Perrin AFB and Ellington AFB (TX).  In 1952, he was assigned as a Training Instructor back at Lackland's OCS, and later attended Squadron Officers School at Maxwell AFB (AL).
During his assignment at Lackland, Stan met Katherine Dunaway, who became his bride upon his discharge from Active Duty in 1954.  The next two years were quite busy, as he moved to Houston, enrolled in Rice University to study Chemical Engineering, took a job in Metallurgical Research at Hughes Tool, became a father to Stan Jr. (1955), and joined the USAF Reserves at Ellington AFB.  He and Kathy later had two other sons, David (1958) and Greg (1962).
While at Hughes Tool, Stan combined his knowledge of Metallurgical Engineering with his keen interpersonal skills to become Group Manager for Heat Treating, overseeing drill bit manufacturing.  With the growing demand for oil throughout the world, and Hughes Tool's reputation for producing high quality drilling products, Stan was asked to help build and put into operation drill bit manufacturing plants in Canada (1963) , Mexico (1967), and China (1985).  A key event in his career came in 1989, when relations between the US and Communist China were "softening".  China's President Deng Xiaoping came to the U.S. for the first time, and during that visit, which included a trip to Houston, Stan led President Xiaoping on a tour of Hughes Tools' drill bit manufacturing facilities.  Stan was later recognized for his outstanding contributions to the Heat-Treating Profession by the Houston Chapter of the American Society of Metals.
He was an avid participant and fan of athletic sports, from playing basketball in high school, to coaching his son's Little League Baseball teams, to becoming a challenging opponent on the senior tennis circuit around Houston. He regularly attended Houston Astros baseball games, Houston Rockets basketball games, and supported the Arts, often being a season ticket holder … a passion that has transferred to his children.
Stan had a strong sense of patriotism to his country and leadership in his community, as witnessed by his 30+ years in the USAF Reserves, and serving as an officer or board member for the local PTO, Little League Baseball Associations, the Houston Chapter of the American Society of Metals, and the Meyerland Community Improvement Association.  In his latter years, when he lost his mobility, he took up a hobby of assembling large puzzles – depicting famous locations and scenes, and framing them for public display.
Two traits that perpetuated throughout his long life and eventful career were his love of God (through his association with the Catholic Church) and love of Family – a wife he adored and is now joined with forever, and three sons who generated immense pride and satisfaction.  As was the case, this brotherly love transcended to everyone he met, as he tried to emulate what his Savior taught him, every day of his life.
A service will be held at St. Michael the Archangel Catholic Church, 1801 Sage Road, Houston, Texas 77056 on Friday, March 24, 2023, at 9:30 AM with the burial to follow at the Houston National Cemetery.
Pallbearers will be sons Stanley R. Galanski Jr., David Galanski, Greg Galanski; and nephews Stanley A. Galanski, Carl Basile and Richard Basile.
In lieu of flowers, the family asks that memorial donations be made to the Disabled American Veterans (DAV), online at https://www.dav.org/about-dav/