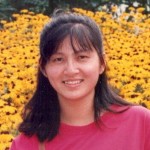 Shuhsien Lacina went to the Lord on Monday, September 8, 2014 after a long and courageous battle with breast cancer.  She was a resident of Seabrook, Texas since 2005.
Shuhsien was born on September 25, 1965 in Chaiyi, Taiwan to Fu-tsair Hsiao and Hsueh-hong Hsiao Tsai.  In 1988, she came to the United States as a student at Indiana University, where she earned a Bachelor's degree in economics.   She met her future husband Michael Lacina at Purdue University, where she earned a Bachelor's degree in computer information systems.  Shuhsien and Michael married in 2001.  They lived in Rochester, New York before moving to the Seabrook.
Shuhsien is survived by her husband, her sons Charles and Daniel, her parents, sister Shuhwa and her husband Hsu Hsiao-Long, sister Shu-Fen and her husband Chang Mao-Hsiang, sister Shumin, brother Nanlong, two nephews, and three nieces.
The family thanks the following organizations for help provided during Shushien's extended illness: Clear Lake Chinese Church, Cameo Caregivers, Houston Methodist (Christus) St. John Hospital, CIMA (Christus VNA) Hospice, Clear Lake Evangelical Formosa Church, Clear Lake Regional Hospital, Deke Slayton Cancer Center, Gateway Community Church, Houston Chinese Church, Regency Village skilled nursing facility, and St. Bernadette Catholic Church.
Visitation will be held on Friday, September 19 from 5 P.M. to 7 P.M.  The funeral service will take place on Saturday, September 20 at 3:00 P.M. and will be officiated by Pastor Benjamin Lam and Pastor Tom Louis.  Both events will be held at Crowder Funeral Home at 111 E. Medical Center Blvd., Webster, TX 77598.  Immediately following the funeral service, burial will take place at Mt. Olivet Cemetery in Dickinson, TX.  Following the burial, a reception will be held at a location to be disclosed.