Shirley Marie McGehee Hatch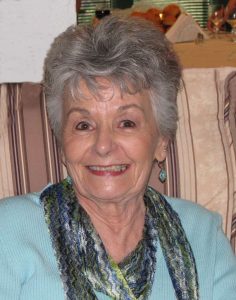 Shirley Marie McGehee Hatch of Texas City, Texas passed away on August 7, 2021.
Shirley was the daughter of Grady T. McGehee, Sr. and Ethel Curran, and a BOI (Galveston), on November 28, 1936. She attended Sacred Heart Catholic School, then Dominican High School, graduating in 1954. Later in 1954, she married Thomas W. Hartnett, and relocated to Fort Jackson, South Carolina, while Tom was serving in the Army.  After Tom's assignment at Fort Jackson, they returned to Galveston, and ultimately located and continued growing their family in Hitchcock. They were members of Our Lady of Lourdes Catholic Church.
During the next 25+ years, Shirley was a dedicated Mother of five, shuffling from the Little League baseball fields, Booster Club meetings, Cub Scouts, concession assignments, swimming lessons, cheerleader and drill team practices, and Sunday Mass.  Besides raising her children, sewing was her passion.  She loved sewing and made school uniforms for her children and others while attending Our Lady of Lourdes Catholic School.  She was also a seamstress for her mother and stepfather at Hitchcock Upholstery Shop.  She also created and sewed decorative trains, capes and costumes for family members who were participants of the O'Connell High School Treasure Ball in Galveston, specifically for themes of "Independence Day" and "The Port of Galveston." During this time, she managed to find time to bowl in a women's bowling league. She loved spending time with her friends and was a true and loyal friend.  She always had a clean house and would welcome her friends at any time.  She taught her children to love 'her' music during Saturday house-cleaning – something her children remember and comment on to this day! Shirley and Tom loved attending dances and functions at Monsanto's Chaparral Golf Club, and spending time with family and friends.
Shirley later worked for years as a secretary at the Painter's Local Union in Texas City.  She later married George Hatch, Sr., making their home in Bayou Vista.  Shirley and George opened 'The Scavenger's Hut,' a souvenir and gift shop on The Strand in the Galveston tourist district. Shirley made homemade ceramic treasures in her ceramic kiln and made hand-crafted gift items.  They went on to travel in the hotel industry.  Shirley and George became Managers of LaQuinta hotels and Home Place Inn and won many awards for their performances.  After several years of travel, they made their home in Willis, Texas, to live the lake life before making their home in Dickinson.
Shirley loved people and people loved her.  She was not one to sit at home, and with her personality and love for people, she decided to pursue a later career as a demo lady at Sam's Wholesale Club in Texas City, Texas.  She went on to study food management and was promoted to food management over the demo ladies and did that until she finally retired at age 75!
Shirley would say she was a gypsy at heart, loved the beach (BOI), was a DIY on everything, and loved decorating. At age 75, she laid laminate flooring in her condo by herself!  She was quite the handy-man, and had every power tool she needed, and rarely called a contractor for help!  She would pull out and replace kitchen appliances, hang ceiling fans and build various small pieces of furniture for her condo.  During this time, she purchased a glass kiln, making beautiful vases, and unique pieces of home décor gift items.  She also took painting lessons and found a new hidden talent of free-hand painting on canvas.  At age 82, she was still reupholstering – staining and recovering her living room rattan furniture pieces and sewing curtains and décor for her condo. There was nothing she could not do.  Shirley was very crafty and imaginative in everything she did.
Shirley loved spending time with her grandchildren, teaching them to sew, made ceramics, creating glassware, arts & crafts, sharing recipes and cooking techniques, and instilled her love of music to her older granddaughters!  She just recently in May, met her 1-yr. old great-grandson, and was able to play vroom-vroom cars with him, making more great memories.
Shirley was preceded in death by her parents, Ethel Curran Wiginton and Grady Thomas McGehee Sr.; stepfather, Otis Wiginton; brother, Grady Thomas McGehee, Jr.; sister, Judy Lynne Gilmore; and sister-in-law, Jeanne Saenz McGehee.
Survivors include her children, Thomas Hartnett (Linda) of St. Louis, MO; Brenda Hartnett of Santa Fe, TX; Steve Hartnett (Karen) of Dripping Springs, TX; Sandy Hartnett (Sherry) of Conroe, TX; Craig Hartnett (Sandy) of Saginaw, MI; grandchildren, Jennifer Murphree, Joshua Hartnett, Ginny Sturlaugson (Liessman), Miles Hartnett, Stephanie Hartnett, Arianna Czarnecki and Sammie Hartnett; great-grandson, Ari Sturlaugson; sister, Barbara Gilliam of Dallas, TX; brother, Kenneth Wiginton of Houston, TX; and numerous nieces and nephews.
Shirley also leaves behind her best friend from First Grade, Annette Grace Shetter, who she reconnected with years later through another dear friend Frances Lopez (now deceased).  After reconnecting, the three of them became inseparable and spent many nights on the dance floor, making many more great memories.
The family would like to thank Shirley's A-Med Hospice care team, Susan Fletcher Collins, Lachette and Ethel for their love, care, and support over the last few months.
Funeral arrangements were provided by James Crowder Funeral Home in LaMarque, Texas, with a memorial service to be held at 11:00 a.m. on Saturday, September 25, at St. Mary of the Miraculous Medal Catholic Church at 1604 9th Ave N (Palmer Hwy.), Texas City, Texas 77590.  A reception will immediately follow at the adjoining Ponzini Family Life Center.  Due to the rise in COVID cases, please follow the guidelines and recommendations of the CDC while gathering at larger indoor events.
Shirley was a supporter of St. Jude Children's Research Hospital and The Salvation Army. In lieu of flowers, donations can be made to St. Jude Children's Research Hospital, The Salvation Army, or a charity of your choice.