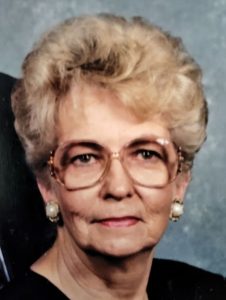 Shirley was born in Meridian MS on 1/21/35 to Ruth and Selby Salter, she was one of six children having a brother and five sisters with whom she remained close throughout her life.
Shirley was married for 21 years and had three children, Sheila Lange, Bradley Wright and Linda Wright during her first marriage.
In 1973, Shirley married the love of her life Bobby Gambill, and gained another daughter, Tonya Rowland. Bobby and Shirley were married for 50 years and during that time together, they had 7 grandchildren, and were blessed with 7 great grandchildren, and 4 great, great grandchildren.
Shirley was a loving mother, wife, sister, grandmother, aunt and friend to many. Shirley could be a little feisty at times and she could certainly offer her opinion to those she loved, even when unsolicited because she loved fiercely and wanted the best for all of us.
Shirley and Bobby were quite active with two different church families throughout their marriage. Shirley often worked in the nursery as she loved the babies. After retirement, they enjoyed working on their homes, gardening, travel and spending time with their loved ones.
Shirley will be missed by those that knew and loved her….until we meet again in the presence of our Lord and Savior.
The Family will have a Ceremony on Friday, August 18, 2023 at 10:00am at Crowder Funeral Home in League City with interment to follow at Forest Park East Cemetery in Webster, Texas.