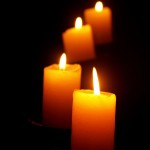 Seth Ryan Courter, 33, was born on May 18, 1982 in Danbury, CT., and passed away August 30, 2015. He lived 5 yrs. in Rosharon and worked as a chef at TX Children's Hospital.
He leaves behind to cherish his memories, wife, Amanda "Amy" Marie Courter; daughter, Cecilia Rose Courter and a baby boy on the way; mother, Alicia Hannan and husband Peter; father, Kelly Courter and wife Debbie; sister, Katie Hannan; brothers: Adam Courter and wife Alise and Sean Hanna; mother in law, Pamela Griffin and husband Pat; father in law, Bill Drucker and wife Jennifer; brother in law, William Drucker and wife Debbie; grandmother in law, Eleanor Drucker and Betty Pakeltis.
A memorial service will be held on Friday, September 4, 2015 at 10am at Crowder Funeral Home in Pearland.