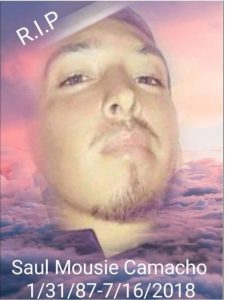 Saul Emmanuel Camacho, age 31, passed away Monday July 16th, 2018. His soul is at rest is alive in us daily. As a loving father, son, brother, uncle and nephew and friend, he brought joy and laughter to us all. His ability to love others and be there for you as a shoulder to lean on was a joy to watch and hear about in the consistency of his loving ways to joke and not be so serious in life.
Saul 'Mousie' was a loving man to strangers, his family, and to those closest to him. He is survived by his beautiful daughter, Ordilease Camacho, parents Linda Camacho and Cary Winburn, along with siblings Sylvia Arredondo, Cary Winburn JR., Mercedes Sustiata, Jasmine Camacho, and 10 nephew and 3 nieces.
His humor in life and the gifts of making so many laugh will be forever cherished and shared. He worked hard as possible and those who saw his performance of work saw his heart and passion to be a provider. He has brought families of friends and strangers all together to our family in sharing a bond he engraved in all our hearts to keep his life a celebration of love.
A visitation will be held at the Crowder Funeral Home Chapel, 111 E. Medical Center Blvd., Webster, TX. 77598 from 3-4p.m. Friday, July 27th, 2018. A funeral service will follow at 4:00 p.m., July 27th, in the Crowder Funeral Chapel.