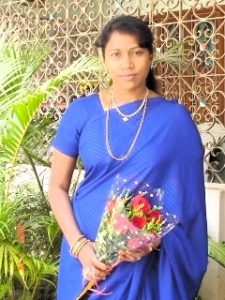 It is with heavy hearts that we announce the passing of Sasikala Guntamukkala, who bravely battled stage 4 breast cancer until she peacefully departed this world on September 23rd, 2023, in Houston, Texas. She was born on June 6th, 1969, in India, and her legacy will forever be cherished by those who had the privilege of knowing her.
Sasikala was a beacon of love and warmth, radiating beautiful vibes wherever she went. She was the beloved daughter of a loving family, with an older brother and a younger brother, who pampered her with affection throughout her life. She pursued her passion for knowledge, earning a master's degree in commerce, and later dedicated her career to serving at a regional court.
On August 22nd, 2007, Sasikala embarked on a beautiful journey of love and companionship when she married Bhaskar Rao Sigatapu, a dedicated professional in the construction industry residing in the United States. Their union was blessed with their only son, Chaitanya Sigatapu, born on August 14th, 2006. Chaitanya is currently in his senior year at Port Neches-Groves High School in Port Arthur, Texas, and he was the pride and joy of Sasikala's life, a cherished blessing she held close to her heart.
As a devoted wife and mother, Sasikala dedicated herself to her family, creating a loving and nurturing home. She described her husband as a lovely person who cherished and respected her opinions, and their enduring love was a testament to their bond. Her sudden departure from this world leaves a profound void in their lives, but the lifetime of memories they shared will forever remain a source of comfort and solace.
Sasikala was renowned for her kindness and love, and her presence was a balm to all who knew her. She had a passion for cooking, feeding birds, and tending to her beloved garden. Her friends and well-wishers found solace in her words and admired her as a person.
In the words of her beloved son, Sasikala was a loving and caring person who enjoyed watching documentaries and was deeply spiritual, finding solace in meditation. Later in life, she embarked on a spiritual journey, even during her battle with cancer, becoming a spiritual guru who conducted classes and helped others find relief from pain through meditation and power healing.
Sasikala Guntamukkala will be greatly missed by her husband, Bhaskar Rao Sigatapu, her son, Chaitanya Sigatapu, her friends, and her family. Her legacy of love, kindness, and spirituality will continue to inspire and uplift all those whose lives she touched. As we bid farewell to this remarkable soul, we are reminded of the enduring power of love and the profound impact one person can have on the lives of many.
A Visitation and Memorial Service will be held at 1:00 pm on Saturday, September 30th, 2023 at Crowder Funeral Home 2422 East Broadway Street Pearland, TX 77581 (281) 412-3000.