Sar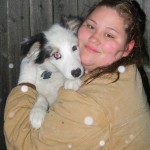 ah Elizabeth Bailey, 25 of College Station passed away on June 24, 2014 in Huntsville, Texas. She was born on November 2, 1988 in Houston, Texas and lived in College Station for the past seven years formerly from Taft, Texas.
Sarah was a graduate of Taft High School Class of 2007, a Junior at Texas A & M University, she was a member of the Central Baptist Church in Bryan/College Station, and she was active in Aggieland Pets With A Purpose and Aggies Bonfire Group. She owned two Australian Shepherds named Faith and Hippo and loved showing Australian Shepherds and was a member of the Australian Shepherd Club of America, American Kennel Club (AKC) and the United Kennel Club (UKC). She was employed at the LaQuinta Inn in College Station, Texas.
Sarah is survived by her mother Becky R. Bailey of Alvin, father and step-mother Floyd and Margaret Bailey of Taft, grandmother Sarah Kay Howard of Texas City, brother Benjamin Bailey of Taft, special aunts Patti Zimmerman and Frankie Freeman, and numerous aunts, uncles, cousins and friends.
A visitation will be on Friday, June 27, 2014 from 6:00pm – 8:00pm at the James Crowder Funeral Home, 401 Texas Ave, La Marque, Texas. Funeral service will be at 2:00pm on Saturday, June 28, 2014 at the funeral home with Brother Frank Dodson officiating. Interment will follow at Grace Memorial Park in Hitchcock, Texas.
Pallbearers will be Members of the Aggie Bonfire Group.
A Memorial Service will be Saturday, July 12, 2014 at 6:00pm at the Center Baptist Church in Bryan/College Station, Texas
Family suggests memorial donations be sent to Aggieland Pets With A Purpose or any Australian Shepherd rescue group.