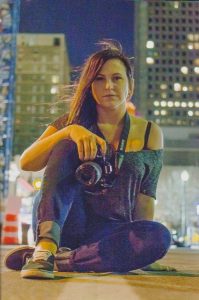 Sarah Ann Grant passed away peacefully in her sleep on Sunday, February 23, 2020. She is survived by her parents, William and Nancy Grant, and her brother, Michael Grant. She loved her dog, Cylus, and her two cats, Lilly and Bokah. Her time was short, but it was a full, eventful, and a very active life.
Sarah was born in Hinsdale, Illinois on November 19, 1987 and moved soon after with her family to Houston, Texas. Growing up, Sarah was an outstanding athlete with many talents in gymnastics and cheerleading. She travelled the country winning several National Championships over many years. Along with her team, Sarah was invited and went to China to introduce Team Cheerleading to the other side of the world.
She graduated from Clear Lake High School and received her RN Nursing Degree from San Jacinto College. Sarah was proud to be an RN as she excelled in her professional career with her caring nature and wealth of knowledge. She saved many lives in the emergency room and provided loving care to her bedside patients.
Sarah was an adventurer. She enjoyed travelling, skydiving, and her great passion of photography. From climbing tall, abandoned buildings in the city to going to remote, exotic locations, Sarah utilized her creativity by taking jaw-dropping pictures. She has been recognized in various Houston and national photography publications for her amazing work.
She is loved by many and will be missed by all. Thank you Sarah for all the memories and the time you spent with us. You will be in our hearts forever.
On Wednesday, March 4, 2020 a Visitation will be held from 11:00 AM to Noon, followed by a Funeral Service at Noon. Interment will be at Mt Olivet Cemetery, Dickinson, TX. In lieu of flowers those wishing to make a memorial donation in Sarah's memory may do so to Baylor College of Medicine, Office of Institutional Advancement, MSC #800, P.O. Box 4976, Houston, TX 77210.