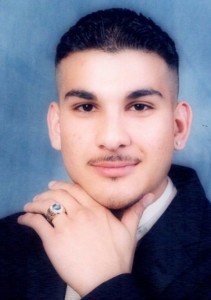 Samuel Sanchez, 30, was born September 10, 1985 in Houston, TX and passed away November 24, 2015 in Stafford, TX. Samuel loved to cook and whip up new things on the grill and in the kitchen. Playing basketball was a hobby he was passionate about, as well as fishing at the beach or lakes with family and friends. Science was fascinating to him and it became one of his passions.
He is preceded in death by, grandparents: Juan Mata Sr. Alberta G. Mata; aunts: Delia Fonseca, Irma E. Mata; grandmother, Ofelia O. Sanchez; aunt, Isabel C. Martinez and uncle, Adam Sanchez.
Samuel leaves behind to cherish his memories, his parents, Alberto and Maria Sanchez; sister, Amanda Lee Sanchez; grandfather, Alberto Sanchez Sr. and wife Andrea; aunts and uncles: Jose Ruben Mata, Minerva Cantu, Maria Elsie Delgado, Richard Mata, Ofelia Pena, Juan Mata Jr., Maria Nelda Mata, Jose Alberto Sanchez, Patricio Sanchez, Arnoldo Sanchez, Rodolfo Sanchez, Belia Garcia, Carlos Sanchez, Eva Sanchez, Clay Sanchez, Dario Sanchez and Marcos Lee Sanchez; many of other loving family members.
There will be a private viewing for family only.