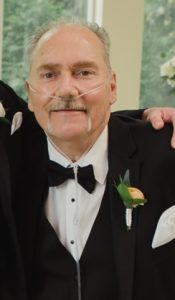 Sam E. Attar, (60), of Houston, Texas, passed away on November 8, 2023.
Sam, fondly known as Sammy, was born to Wahib and Barbara Attar, on June 13, 1963. He was a talented carpenter who loved repairing and remodeling the Mediterranean style home built by his father Wahib Attar. He enjoyed spending his free time with friends, family, and especially his two sons Justin and Jordan.
Sam is survived by his two sons Justin and Jordan. He is also survived by his mother Barbara, and siblings, Jay, Eddy, and Layna.
Sam was a faithful believer in Jesus Christ our Lord, and despite hardships emitted hope and joy during hardship. He was very often the humorous center or life of the party filling the room with laughter. His joy and humor was truly contagious, and will be sorely missed.
Sam's family will host a memorial service on Saturday, November 18, 2023, at 2:00PM. The service will be at Crowder Funeral Home (Clear Lake), 111 W. Medical Center Blvd., Webster, TX 77598.