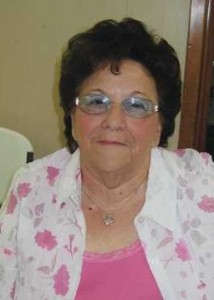 Rutha Nell Graham Black, 79, a longtime resident of Santa Fe, TX passed away May 24, 2015.  She was born June 25, 1935 in Waxahachie, TX to her parents Noah and Lilly Graham.
She was employed with Santa Fe ISD for 37 years.  She loved her family and playing Bunko with her friends.  After she lost the love of her life she spent her days loving her precious pet Benji.
Mrs. Black was preceded in death by her loving husband Ben E. Black; parents Noah and Lilly Graham; brothers Arthur Lee Graham, Tommy Bennett Graham, Leonard Irvin Graham, Dan Edward Graham, Irvin Jack Graham, Billy David Graham; sister Patsy Ann Bryce.  She is survived by her daughters Rutha Ann Conner and husband Bruce, Cathy Lynn Padgett and husband Bobby, Karen Jean Hebert and husband Michael; son Ben E. Black, Jr. and wife Taunya; sister Jannie Lynn Shelton, nine grandchildren and seventeen great grandchildren.
Graveside services will be held at 12 noon on Friday May 29, 2015 at Grace Memorial Park in Hitchcock, TX.  Pallbearers will be Brian Black, Kevin Black, Eric Baker, Kyle Padgett, Chris Istre and Ryan Copeland.  Arrangements are under the direction of Crowder Funeral Home in Dickinson, TX.