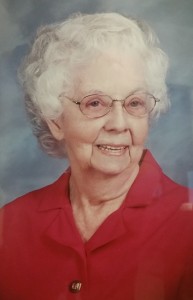 Ruth Loweeta Viken, 95, of League City, Texas passed away January 4, 2016. Ruth was born November 11, 1920 to Homer Asa and Alice Maebelle Wooten in Sherman, Texas. Ruth was the wife of Reverend Orlando Franklin Viken and aided him in his pastoring in Athens, Texas from 1953 -1957 and Big Spring, Texas 1958 – 1961. In 1963, Orlando and Ruth founded the Midway Apostolic Tabernacle in Corona California. Following Orlando's death Ruth became a dorm mother for Jackson College of Ministries in Jackson, Mississippi. Ruth was preceded in death by her parents; her first husband Reverend Orlando Franklin Viken; her second husband, Reverend Albert F. Miller; son, Richard H. Viken; step son, Dennis Miller; step daughter, Nancy Cline; sisters, Thelma Edwards and husband "Dink", and Camille Leslie and husband Roy; and granddaughters, Michelle Viken and Jillian Gemeinhardt.
She is survived by her daughter, Marilyn Kay Gemeinhardt and husband Ronald; son, Jerry Olaf Viken and wife Jan; daughter-in-law, Terry Viken; step son, Larry Miller and wife Norma; step daughter, Arlene May and husband Ferrell; sister, Vernell Jones and husband Al; grandchildren, Debbie Glen and husband Gary, Brent Viken and wife Tammy, Sheri Long and husband Ronnie, Christie Wilhite, John Owens and wife Andrea, Jennifer Owens, Guadalupe Gemeinhardt,
Troy Cagle and wife Sally, Lisa Carter, and Charlsi Neeley and husband Chris; twenty two great-grandchildren and six great-great-grandchildren, eight step grandchildren, twenty-four step great-grandchildren, and eleven step great-great-grandchildren.
Visitation in her honor will held 4:00 – 6:00 pm Thursday, January 7, 2016, with funeral services at 6:00 pm, Crowder Funeral Home Chapel, Dickinson, Texas. Pastor James Kilgore presiding.
Graveside services will be held 2:00 pm, Saturday, January 9, 2016, at Oaklawn Memorial Park, Athens, Texas. Pastor Larry Gandy presiding.
Honored to serve as pall bearers are Ronald Gemeinhardt, Ronnie Long, John Owens, Brent Viken, Shawn Smith, Hunter Kiken, Payne Viken and Tate Viken. Honorary pallbearer is Jerry Viken.