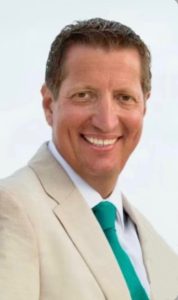 After a life full of love and happiness, Russell Faber Sole, 58, of League City, Texas passed away on April 27, 2022. Russell was the loving husband of Karyn Limas Sole with whom he would have celebrated their 20 year Anniversary this month. They were married on the shores of Makena Cove Beach in Maui on May 23, 2002. Together they shared a wonderful and blessed life with their twin daughters, Alexa and Tori Sole, and son, Chad Lindsey.
Russ was born in San Jose, CA, to parents Walter and Eleanor Sole. He graduated from Blackford High School then attended San Jose State University where he pledged Sigma Nu graduating with a degree in Accounting. After graduation he worked at Stanford with his dad who was an internal auditor for the university. Soon after, Russ was hired by KPMG as a Grants Management Specialist and sent to UTMB Galveston. While working at UTMB he met his wife, Karyn, in 1995. He then went to work at Yale for KPMG where he was hired by Oracle as a Consultant. He continued to work for Oracle for over 20 years until finally joining Accenture as a Business & Integration Architecture Associate Manager. He was an intelligent and dedicated worker and a valued team player. He was also a charming, outgoing and loyal friend and loved by everyone who knew him.
Russ lived for his family and showered their lives with love, laughter and a world of happiness. He had a tremendous love for golf instilled in him by his dad who taught him to play when he was 4 years old. He was an avid golfer all his life even having a chipping green installed in his own backyard. He enjoyed playing courses all over the US and Australia. He never missed an opportunity to play while on vacation.
Russ loved all things outdoors especially anything to do with the beach, mountains, mountain bike riding or boating.  He instilled in his family this same love for the outdoors. Many cherished family memories were made out on the boat or various beaches across the U.S. but none more treasured that the beaches in the Bahamas. He loved snorkeling and swimming with sharks. He also held numerous childhood memories skiing in the mountains back home in California.
Russ played the piano and trumpet in his youth and taught himself to play the ukulele as an adult. He shared a love for music and theatre with his wife and kids, but also loved watching his children play sports. He was their biggest fan at all their sporting events. And the greatest dad that ever lived.
Russ had a way of making everyone feel loved and special but none more than his own family. He is survived by his wife Karyn Sole'; daughters, Alexandra "Alexa" Sole' and Victoria "Tori" Sole'; son, Chad Lindsey and wife, Amanda and grandson, Austin Lindsey.
Russ was preceded in death by his parents, Walter and Eleanor Sole; sister, Leslie Sole; uncle, John Sole; and paternal grandparents, Mario and Olga Sole; and maternal grandparents, John and Jennie Schippers.
In his honor a visitation will be held Friday, May 13, 2022 from 5:00pm to 7:00pm with a Rosary at 7:00pm at Crowder Funeral Home in Dickinson, TX. A church service will be held at 11:00am on Saturday, May 14, 2022 at St. Mary's of the Expectation Catholic Church in League City, TX with a Burial to follow at Hayes Grace Memorial Park in Hitchcock, TX. A Celebration of Life luncheon for family and friends will be held at The Hidden Palms in Santa Fe, TX from 1:00pm-4:00pm.