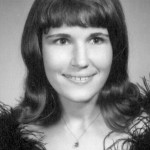 Ruby Nell Bolen, 63, passed away on August 26, 2014 in Houston, TX. She was born in Texas City, TX on June 10, 1951.   Ruby worked as a secretary for the principal at Blocker Middle School for many years, then went to work at the Clinical Department for Cyberonics.
 She is preceded in death by her father, W.A. Keener.
Ruby is survived by her husband of 45 years, Clay D. Bolen Sr.; children: Amy Robles and husband Ramon and Clay D. Bolen Jr.; grandchildren: Casey Bolen, Taylor Harris and Baleigh Bolen; mother, Hattie Viola Keener; siblings: Iris Long and husband Ed, Pam Woolf and husband Kevin, Belinda Simmons, Jim Keener and wife Sheri, Albert Keener and wife Sherrie, and Kevin Keener and wife Marie.
 A memorial service will be held on Saturday, September 6, 2014 at 4:00 pm with a visitation to begin at 2:00 pm, in the chapel of Crowder Funeral Home in Dickinson.
 In lieu of flowers, her family requests that donations be made in Ruby's name to Leukemia & Lymphoma Society, www.lls.org.