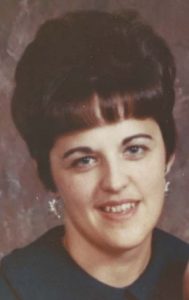 Rosie Pirker, 75, died peacefully on Monday, October 31, 2016.
Rosie was born on July 17, 1941 in Silver Creek, Minnesota to Arne and Esther Klemz. Rosie married Philip Pirker on January 30, 1965. They were married for 35 years before Philip's death on July 30, 2000.
Rosie was a secretary for the C.I.A. when she met Philip in Washington, D.C. She worked as a secretary for a number of companies during her career including for executives of the Gamble's Department Store.
Rosie is survived by her son: Dana Michael Pirker and his wife Rosa; son: Gregory Scott Pirker and his wife Beverly; daughter: Penny Kay Pirker; granddaughters: Rachel Pirker and Alayna Pirker; granddaughter: Tessa Pirker; grandson: Aiden Pirker; grandson: Jeremy Philip Kelly Pirker.
A Celebration of Life memorial service will be held Thursday, November 3, at 10:00 AM at Hope Lutheran Church, 1804 S. Friendswood Dr., Friendswood, Texas.