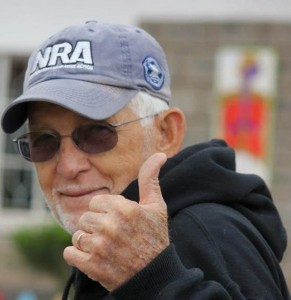 Roy August Newberry, Sr., age 82, of Seabrook, Texas, entered his heavenly home on Friday, June 3, 2016. Roy's family wishes to extend many thanks to the excellent M.D. Anderson staff for the care that he received during his 16-year battle with cancer. His family will be forever grateful that the treatment afforded him many additional years of life.
Roy is survived by his loving and devoted wife of 28 years, Pam Milutin Newberry, his four children, Roy Newberry, Jr., Stephen Newberry, Pam Newberry Mullen and Ken Newberry, and beloved grandchildren, great-grandchildren, nieces, nephews and dear friends.
Roy was born in Galveston, Texas on May 23, 1934. He was an outstanding contributor to the Galveston community during his years of residency on the Island. Roy raised his family in Galveston and was a well-respected businessman. He was a member of the Rotary Club where he was awarded Man of the Year, and a member of the Junior Chamber of Commerce, where he was awarded the Outstanding Citizen Award. Roy was an active member of Galveston's Central Christian Church.
After moving to Seabrook, Roy became an expert in many areas in the marine field, achieving recognition as a marine surveyor and USCG Licensed Captain. He was awarded the GBCA Yachtsman of the Year and the Sportsmanship Award. A ship's cannon was recently dedicated in honor of Roy at the Galveston Sea Base in appreciation of his devoted service to both humanity and the sport of sailing. He was an avid hunter and fisherman, and loved playing tennis with his LYC Monday night group.
Roy was a father-figure, mentor and teacher to many, and was passionate about sharing his faith and leading people to Christ. He put that faith into action in many ways including co-founding Starfish Kenya, a mission dedicated to caring for orphans and children in need. He was the most beloved husband, father, grandfather, great-grandfather, uncle and friend.
A Celebration of Life will be held on Tuesday, June 7, 2016 at 4:00 p.m. at Gateway Community Church, 760 Clear Lake City Boulevard, Webster, Texas 77598. Memorials may be made in Roy's name to Starfish Kenya or Gateway Community Church at this address.