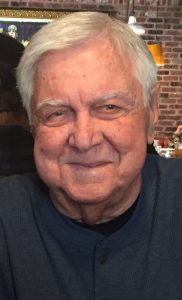 Roy Lee Dickson, Sr., beloved father, grandfather and great grandfather passed away peacefully at his home on December 2, 2018, surrounded by family, while looking forward with great anticipation to celebrating his 90th birthday in January.
Roy was born in Galveston, Texas on January 10, 1929, the son of Pauline Kelemen  Dickson and Hewland Clifford Dickson.
Roy was happily married to his wife Florene for 67 years and enjoyed spending time with his children, grandchildren and great grandchildren.
He had a wonderful sense of humor which was endearing to everyone he came in contact with, a great testament to his nature with so many long and lasting friendships he had over the years. He could never resist the opportunity to have a laugh with friends and loved ones.
He began his career with Southwestern Bell Telephone Company, (AT&T), at the age of 18 and worked his entire career for the same company. He will be remembered as a great friend to his many co-workers and an effective representative as a union steward.
Preceded in death by his wife Florene, parents and sister Doris Cunningham.  Roy is survived by his son Roy L. Dickson, Jr. and wife, Barbara, daughters Pam Zwolinski and Cindy Henderson, granddaughters Courtney Henderson, Stephanie Dickson Slavin and husband Andy Slavin, and great grandsons Cameron and Connor Slavin, and is also survived by lots of loving cousins, nieces, and nephews.
Roy lived a long and happy life and brought joy and fulfillment to many, he was "One of the nicest and sweetest guys in the world".
A visitation will be on Saturday, December 8, 2018 starting at 12:30 PM with the Memorial Service to follow at 1:30 PM at the Crowder Funeral Home in La Marque, TX.  To follow will be a Celebration of Life reception for family and friends at La Brisa Mexican Grill, 501 N. Wesley Drive in League City.
The family suggest memorials be made to the charity of your choice.