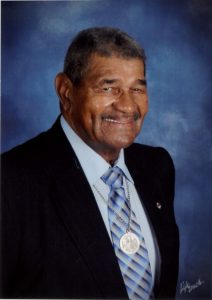 Roy  Orebeau (96) of Hitchcock, Texas, passed away at his home on Wednesday, September 14, 2022. He was born in Eunice, Louisiana on April 13, 1926 to Edorine and Julius Orebeau.
A resident of Hitchcock since 1955, Roy was a longtime member of Our Lady of Lourdes Catholic Church and a member of both the Knights of Peter Claver and Knights of Columbus. Roy enjoyed gardening, Bar-B-Qing and carpentry; anything that involved being outside really.! He loved his Westerns and he also Loved Gumbo Parties with Family and Zydeco Dances.
Roy is preceded death by his mother and father, his wife Alphonsia Orebeau, five brothers; Robert "Bob" Orebeau, Rogers "Jay" Orebeau, Jerry Orebo, Jack "JC" Orebo and Hilbert Oreabeau, Sr., and one sister.  He is survived by his loving daughter, Terry Amey and her husband Carl. He also leaves behind a host of nieces and nephews and Friends, he also has 2 Godchildren Hilbert Orebeau Jr and Antoinette Datrice.
A visitation will be held from 5:00 pm to 8:00 pm on Friday, September 23, 2022 with a Vigil and Rosary at 7:00pm at the James Crowder Funeral Home in La Marque. A funeral mass will be held at 10:00 am on Saturday, September 24, 2022 at Our Lady of Lourdes Catholic Church with Father David Harris officiating. Interment will follow at Mount Olivet Catholic Cemetery in Dickinson.
Pallbearers will be Michael Orebo, Charles Larnette, Calvin Throne, Rogers Orebeaux , J"Sabien Dean,  Derante Dean.