Rosie Lee Crouch Benavidez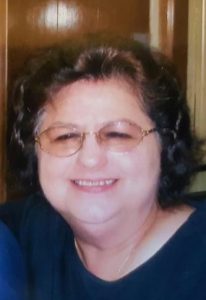 Rosie Lee Crouch Benavidez
Rosie Benavidez, 69, of Santa Fe passed away on Thursday, November 24, 2016 at Clear Lake Regional Hospital in Webster. She was born in Rosenberg, Texas to parents, Leroy M. Crouch and Suzie Perez Galicia on November 30, 1946.
She was a longtime resident of Galveston County, retiring with her husband, Jesse in Santa Fe. She was a member of Our Lady of Lourdes Catholic Church. She deeply loved her family and enjoyed spending time with them and her fur children, Toby and Lila.
Rosie was preceded in death by her parents, Leroy M. Crouch, Suzie Perez Galicia and her loving stepfather, Raul Galicia. She is survived by the love of her life, her husband of 52 years, Jesse Benavidez; daughter, Cynthia Davis and husband, Tim; daughter, Annette Kvist and husband, Orjan; grandchildren, Natalie Salinas and husband, Louis Trejo, Kristin Kvist, and Tyler Kvist; great-grandchildren, Izzy Trejo and Dani Trejo; sister, Mary Jane Carrasco and husband, Able; sister, Dorothy Villazon; sister, Elia Maxwell (widow of Danny Maxwell); brother, Ray Galicia and numerous other family members and friends.
Visitation will begin at 11:00 a.m. followed by a memorial service at 12:00 p.m. on Saturday, November 26, 2016 at Crowder Funeral Home in Dickinson. The family would like to thank Rosie's physicians, Dr. Baweja and Dr. Alnas and the nursing staff at Clear Lake Regional's Critical Care Unit and the staff at Regency Village for their exceptional care and also for their compassion and concern exhibited to our family.
In lieu of flowers, the family requests donations in her memory to be sent to the League City Animal Shelter, Attn: K. Sckoolcraft, 821 N. Kansas Ave., League City, TX 77573.