Rosemberg Ramirez Alvarado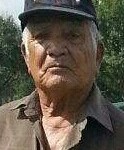 Rosemberg Ramirez Alvarado, 83, resident of Houston, TX for over 20 years, passed away on May 17, 2014. He served many years in the Houston area as a contractor.
Rosemberg is preceded in death by his wife, Vicenta Alvarado, and his parents Pedro and Antonia Ramirez.
He leaves behind his children: Irma Alvarado and husband, Jose Contreras, Doris Martinez and her husband Robert, Mariam Alvarado, Jose D. Ramirez, Pedro Ramirez and wife Adriana and Rosemberg Ramirez and his wife Ana; 22 grandchildren and 33 great grandchildren.
Visitations will be held Tuesday, May 20, 2014 from 5pm-8pm and Wednesday, May 21, 2014 from 2pm-8pm with a rosary to recite at 6:30pm at Crowder Funeral Home in Pearland. Funeral service will be on Thursday, May 22, 2014 at 10am. Interment to follow at Forest Lawn Cemetery, 8701 Almeda Genoa Rd. Pallbearers: John Ramirez, Rosemberg Ramirez, Jose Arnoldo Ramirez, Jose Pablo Ramirez, Jose Aris Ramirez,  Jimmy Ramirez, Robert Martinez and Christian Martinez.