Rosemary Marino Robicheaux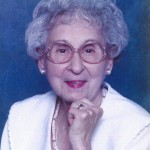 Rosemary Marino Robicheaux, 88, year's young of LaMarque, Texas passed away March 30, 2014. She was born on August 11, 1925, Houston, Texas to Sam and Mary (Bono) Marino. A beloved wife, mother, grandmother and great-grandmother and bore her illnesses with grace and dignity. She was raised in Houston, attended Blessed Sacrament Church, graduate of St. Agnes Academy and family attended Immaculate Conception Church. She had a brief career with Hardware Mutual Insurance. She married in 1943 and later they transferred to La Marque. She taught pre-school. Her greatest joy was being a wife and mother. She loved to dance, and was admired for their love of Big Band tunes. A member of Queen of Peace and Ladies Guild for 55 years, volunteered at the parish school, as she loved to be with the children and nuns. She was an avid reader, loved gardening her beautiful roses, and dining as all loved her baked spaghetti and pot roast!
She is preceded in death by her beloved husband of 57 years, Warren, Sr., parents Sam and Mary, grandson Alexander and brother "AT". She is survived by son Ronald and wife Carmen; daughter Linda; son Warren, Jr. and wife Traci; daughter Michelle and husband Ed; grandchildren: Amanda and husband Joe; Eric, Elizabeth; great grandchild, Violet. Stepchildren EJ and Sara, Pam and Stephen and their spouses, Tim and Heather; and stepgrandchild Aurora. She wishes to thank friends for all their help and love.
Visitation is Sunday, April 6th, 5:00 – 8:00pm at James Crowder Funeral Home, La Marque. Mass is 10:00am, Monday, April 7th at Queen of Peace with Father Puthumayil officiating, reception to follow. Graveside is 2:30pm at Forest Park Lawndale Houston.