Ronald "Ron" Bruce Tunnicliff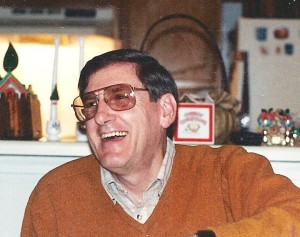 Ronald "Ron" Bruce Tunnicliff passed away February 13, 2015.  He was born December 6, 1933 in Elmira, New York.  He attended Elmira Free Academy followed by 4 years in the U.S. Air Force.  While in the Air Force he met the love of his life, Ruth Gail Hamer, and they were married in 1955.  Following the Air Force he graduated from Tri State College, Indiana with an Electrical Engineering Degree.
He then went to work for McDonnell Douglas Corporation and was involved in many interesting projects such as the Quail, Mercury, Gemini, Apollo, Skylab, the Space Shuttle and the Space Station.  He also supported many manned space flight missions with NASA during his career of 34 years.
He is survived by his wife Ruth and two sons: Edward and Bruce; one daughter: Margaret; five grandchildren: Lynzie, Andrew, Justin, Shawn and Nathan; two great grandchildren: Levi and Amelia; a half-brother: Colby; as well as a host of nieces and nephews.
Funeral Service will be Noon, Friday, February 20, 2015 at Crowder Funeral Home, Webster.
In lieu of flowers memorial donations may be made to Houston Area Parkinson Society, 2700 SW Freeway #296; Houston, Texas 77098 or National Parkinson Foundation, 200 SE 1st Street, Ste. 800; Miami,  FL 33131.
Interment will be at East Koy Rural Cemetery; Pike, New York