Ronald Lynn "Ronnie" Roberson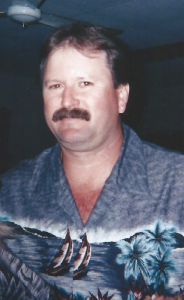 Ronald Lynn "Ronnie" Roberson gained his wings on September 6, 2023, at the age of 63 in his hometown of Texas City, TX. With his health battles in recent years, it showed his courage in facing life's challenges with a smile and willingness to fight. Despite the pain, Ronnie came out a hero, staying strong until the end.
Ronnie was born on July 29, 1960, to Leland Bryant Roberson and Dorothy Mae Roberson in Tyler, TX. At the age of 6, they moved to Texas City and that's when the shenanigans ensued.  Throughout high school he briefly participated in the band, starting with clarinet, and settling on tuba, as well as raising two pigs for FFA, Petunia and Arnold.  During his football career he played 3 main positions:  end, guard, and tackle.   He sat at the end of the bench, guarding the water, and tackling anyone who got too close to it.   To make it look like he played, he would splash himself with water to look sweaty.  He graduated in 1978 as a Texas City Stingray.  He would spend many of his Friday night's at the stadium watching his team and supporting them.
At the ripe old age of 8, he accepted Christ into his life at First Baptist Church where he was baptized for the first time. Then, later switched to Trinity Baptist Church where he was baptized for a second time as a teenager; the second time was better as the water didn't boil as long as the first one.
Ronnie fell in love with 'The One', his wife of 22 years, Chris Frances Mumey Roberson, in 1995, when fate reconnected them through one of their life's passions––bowling at AMF Star Lanes. It was "strike" after "strike" as their love blossomed. They were married in 2001 in Port Aransas, TX.  Through all of his health issues, Chris stuck by his side, encouraging, caring and loving him with all her heart.
Ronnie worked for Dallas Group from 1980 to 2007 where he retired as an operations manager; afterwards, in retirement and with one of his best friends, Johnny Baker, started a construction company named J&R construction in 2008.  The two of them spent many lunches at the Taqueria eating chunky salsa and trying to figure out how to get out of having to work but still get paid.
One of Ronnie's greatest joys in life was when he was able to coach little league with Charles K. Abernathy for their sons, Royce, and Jerald Dwayne; then later coached with Mike Hoecker for Tyler's team. Monday and Tuesday nights were set aside for bowling, where in 2010; he bowled a 300, checking off one of his many bucket list items. Ronnie loved offshore fishing with friends Pat and Ivy Bones of Port Aransas. His best tournament finish was July 7, 2000, when he was first runner up for white marlin at the 65th Deep Sea Roundup.   Ronnie was a great fisherman and swimmer but lousy boat captain as he sank 2 boats.   This taught Ronnie 2 very important things:  1. Be a great swimmer and, 2. Never buy a Mako.   He fished in the bays and offshore, and in retirement, he purchased Miss Tita his own offshore boat………he didn't sink that one.
He is preceded in death by his father Leland B. Roberson.
Ronnie is survived by his wife Chris F. Roberson of Texas City, his mother Dorothy Mae Roberson of Tyler, his children Chassidy and husband Chris Rust of Lake Jackson, and Royce Roberson of Virginia Beach, his five grandchildren Caylee Paterson, Cryslynn Rust, Alaina Roberson, Kennedy Roberson, and Ryland Roberson.  Ronnie is also survived by his sisters Sheri (Charles Keith) Abernathy Sr. of Texas City, TX, and Shelley (Mike) Hoecker of Santa Fe, TX; his nephews Charles K. Abernathy Jr, Jerald Dwayne Abernathy "J.D.", Michael Tyler Hoecker "Ty", and niece Tory L. Hoecker; and multiple great nephews Kayden, Kooper, Knox, and Liam" Gus".
Visitation and refreshments will be from 1-3pm on Saturday, September 16, 2023 at Crowder Funeral Home in La Marque, TX followed by a Memorial at 3pm.
In lieu of flowers, donations can be made to American Diabetes Association. WWW.Diabetes.org
The family request that everyone dress casual, in Hawaiian Shirts or Fishing Shirts.