Rodolfo "Rudy" Rivera Perez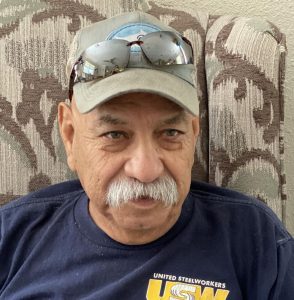 Rodolfo "Rudy" Rivera Perez, 77, born in La Villa, Tx. and a resident of Pearland, TX since 1973, passed away August 21, 2023 in Houston, TX. Rudy served his country in the Army National Guard for 6 years and retired with 30 years working for the U.S. Postal Service. He was a member of St. Helen Catholic Church.
Rodolfo, who was often referred to as 'Rudy', was born on January 16, 1946, and was the second child in a family of 8 siblings. He grew up in La Villa, a small town in South Texas. He and his eldest brother spent most of their childhoods working in the crop fields to help his parents support his younger siblings. When he grew older, he worked for the local cotton gin until he graduated high school and met his future wife, Alicia. While starting college, Rudy and Alicia wed on January 26, 1968, which began an amazing marriage that spanned over 55 years. Shortly after, he proudly served in the United States Army National Guard for 6 years. In 1973, he decided to move his family to Pearland, Texas where he worked at the Pearland Lumber Yard. A few years later, he found his long-term career with the United States Postal Service. He started at the bottom and worked his way up, becoming a lead supervisor at one of the nation's largest facilities, the Barbara Jordan Post Office. He worked at the Postal Service for 30 years until he retired in 2007.
Rudy was first and foremost, a family man. A loving husband who never forgot an anniversary, who enjoyed laughing and dancing with his wife, and loved singing and playing the guitar with his father-in-law. He was a wonderful and dedicated father. He would wholeheartedly put his children's needs above his own. He was always encouraging his children to be good people and he showed great interest in their hobbies. He was also always excited about making plans for the family summer vacation every year. One of his favorite spots was the mountains of Colorado where he would drive and hike up treacherous terrain. He had an amazing sense of adventure, and thankfully he had a passion for capturing those experiences as it is thanks to him that we have recordings of so many wonderful family vacations and can revisit them forever.
Now, while Rudy was always an amazing husband and father, it cannot be denied that the birth of his grandchildren gave him an even deeper understanding of the true meaning of love. He would often point out how much grandparents love their grandchildren even more than their own children. Rudy would spend most of his retirement days planning things to do with his grandchildren. He would love to go fishing, crabbing, and camping. He was a big sports fan and would love to watch the Dallas Cowboys play on the weekends with his son and grandsons. He taught his grandsons how to fix up a car or truck when he was working outside. Most notably an old Stingray Corvette that was his passion project for many years. He also showed his granddaughter how to raise and care for a horse he gave her as a child. He would take his grandsons hunting often. He would love to spoil his grandkids and frequently took them to the store to pick out a favorite toy. He made a great effort to show up to every sporting and school event such as football games, baseball games, soccer games, band events and Grandparents' Day at school. He spoke often of how proud he was of all his children and grandchildren and looked forward to the day his grandson graduated from Chiropractic School. He showed great compassion and forgiveness for others and was always willing to help anyone in need. He was a God-fearing man and was a member of St. Helen's Catholic Church.
Rudy Perez always showed unwavering love and care through his actions and words. He will greatly be missed by all who knew and loved him. May he find peace in heaven with those who left before him and with our Lord and Savior, Jesus Christ.
He is preceded in death by his parents, Artemio and Santos Perez; brothers: Salvador Perez, Jorge Perez, Elizandro Perez, and Juan Perez.
He leaves behind his wife of 55 years, Alicia Perez; son, George Perez, Sr., wife Veronica; daughters: Beverly Jimenez, and Kimberly Perez; grandchildren: George Perez, Jr., Remy Jimenez, Aidan Rudy Perez, Brienna Foster, Brodey Foster, and; brother, Artemio Perez, Jr., wife Blanca, and Dick Perez, wife Elma; sister, Nora Burdick, husband William, and sister-in-law, Julia Perez.
There will be a visitation Friday, August 25, 2023 from 10:00 a.m. to 12:00 p.m. with a mass to follow at 12:00 p.m. at St. Helen Catholic Church in Pearland, TX. with Father Luis Garcia.