Roberto Rene Riesgo Lacourt
Resting in God's arms.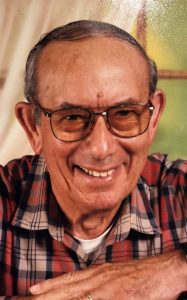 Roberto Rene Riesgo Lacourt died Tuesday, August 28, 2018, peacefully at Nexus Specialty Hospital in The Woodlands after many years struggling with Dementia complications. He was born January 10, 1929, in New York and was 89 years old. He was the only child of Maximino Riesgo Puente and Enery Lacourt Ithier. When he was 8 years old his family moved to the island of Puerto Rico where He lived in the town of San Sebastian until adulthood. He married, had a son, and worked as a manager for many years with Walgreens Pharmacies in the town of Rio Piedras. He remarried and moved to Houston, Texas in 1967. Roberto and Gloria had two daughters while working as a professional welder in the petroleum industry in Pasadena, TX. As an only child, Roberto was faced with the responsibility of returning to Puerto Rico in 1971 to care for his elderly father and manage the family farm. He worked as a farmer until he was offered the opportunity to positively impact his community by becoming a public servant. Roberto first became a political speechwriter and soon after became the vice mayor of his hometown, San Sebastian. His contributions brought him notoriety for being a stern but compassionate and honest politician. He had his own talk radio show while balancing public service, family, and the family farm. Roberto and Gloria returned to Houston, Texas in the early 80's to provide better educational opportunities to their girls. In the Summer of 1993, Roberto's soul was called by our Blessed Mother to serve humanity and to grow spiritually by fostering an orphanage in Colon, MX. For many years he collected and delivered school supplies, clothing, and other donations. As his health began to decline a new opportunity to serve was seized and he became a door greater in Sts. Simon and Jude Catholic Parish. He was an embodiment of his faith in the salvation offered by his Lord and Savior Jesus Christ and a faithful member of S.O.L.T. ministries as a disciple of Jesus and Mary. Roberto's faith in the Lord sustained him until his last breath.
Roberto is survived by his wife Gloria Haddock Riesgo, his son Roberto Rene Riesgo Rodriguez (Carlota), and his daughter Gloria E. Costa-Riesgo (Francisco).
Roberto is also survived by his grandchildren Isabel Riesgo Santos, Mirelia Liz Riesgo Santos, Alines Riesgo Santos, MariaVictoria "Tori" Costa-Riesgo, Genesis Pieri, Gabriel Costa-Riesgo, and greatgrandchild Yameliz. He will be missed by his nephews Eduardo Lebron Haddock, Carmelo Ruiz Haddock, Delia E. Clemente Haddock, A.Tana Clemente Haddock, Jose R. Clemente Haddock, Pedro Clemente Haddock, Dolores Ramos Poques, many friends, and parishioners for all their support and Prayers. Special thanks to Fr. Pat Garrett, Fr. Kailas, Fr. Alphonsus, and all caregivers and hospice providers. A Vigil Mass will be held Wednesday, September 12 from 7pm-9: 00 pm in Sts Simon and Jude Catholic Parish in The Woodlands, TX. The Funeral Mass will be Thursday, September 13 from 1:00pm-2: 00 pm followed by a short reception from 2:00-3: 30 pm. A graveside service will be held at 4:00 pm at Forest Park the Woodlands Cemetery in Shenandoah.