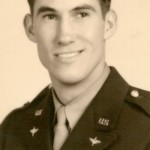 Robert Julian Mabry, 91, was born September 16, 1922, in Cunningham, Kentucky, and passed away June 3, 2014. After 2 years at Western Kentucky University in Bowling Green, Pearl Harbor halted his college plans.
In October of 1942 he received a draft induction notice and enlisted in November of 1942.  After a series of rather rigorous academic exams, he qualified for the Army Air Corps and attained the rank of 2nd lieutenant. He served in WWII as a pilot flying B17's stateside. Thankfully the war ended before he was to become part of the invasion of Japan. Formerly of Carlisle County Kentucky and Murray, Kentucky, Robert was a resident of the South Belt area and Pearland, Texas, for more than 25 years. By profession, he was a skilled carpenter, construction contractor, and custom cabinet maker. He and Donna are longtime members of St. Andrew's Episcopal Church, Pearland.
He is preceded in death by his 2 sisters: Frances Fuller and Charlotte Jones of Carlisle Country.
Robert leaves behind his wife Donna Mabry, 2 children:  Deborah James and husband Joe and Phillip Mabry; grandson Justin James and wife Susu.
Robert never tired of recounting his adventures at the various air bases throughout the country where he was stationed during the war and the interesting people he met along the way.
He loved 1940's/early 50's music and classic movies. He enjoyed history and visiting historical sites. Most especially, his passion was delving into the mysteries of family history. Robert was the researcher and compiler of family information and lore, information that he shared with relatives close and distant throughout the country. He is and will ever be our beloved Robert, Daddy, Grandpa.
A memorial visitation is set for Saturday, June 7, 2014, from 3 pm-6pm at Crowder Funeral Home in Pearland.