Robert J. "Land Pirate" Bottoms, Jr.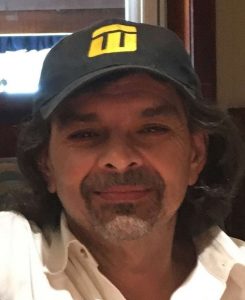 Robert J. "Land Pirate" Bottoms, Jr., 56, of La Marque died in a tragic accident in Georgia on Wednesday, August 14, 2019 with his two beloved dogs Yuna and Jax.  He was born August 15, 1962 in Abilene, Texas to Robert J. Bottoms, Sr. and Sonia Garza Bottoms.
Robert was a resident of La Marque, he was a graduate of La Marque High School and he also had an Associate Degree in Accounting. Robert was a Truck Driver for over 20 years; he also worked as a FEMA Inspector after Hurricane Harvey in Houston and after Hurricane Maria in Puerto Rico.  He enjoyed working on his hot rod, an Oldsmobile Cutlass.  He also loved his dogs, playing with drones, fishing, and watching live music.
He is preceded in death by his father Robert J. "Bob" Bottoms, Sr.  He is survived by his mother Sonia Garza Bottoms, daughter Chantel Bottoms Valentin, son Robert J. Bottoms, III, sister Cynthia Sher, his grandchildren Alayna Bottoms and Rome Valentin, and his beloved dog Harvey.
A visitation will be on Thursday, August 22, 2019 from 9:00am-11:00am with a Eulogy at 10:00am at the James Crowder Funeral Home in La Marque.
In lieu of flowers donations may be made to pilotsnpaws.org, an organization that transported Robert's surviving dog Harvey back to the family at no cost.