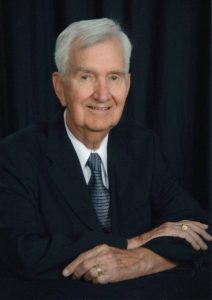 Robert G. Voss, age 90, of Clear Lake Texas went home to be with his Savior Jesus in his eternal heavenly home on Sunday November 27th, 2022.
Bob was born on January 22, 1932 to Clifton B. and Thelma Mayes Voss in Ft. Worth Tx.  He grew up on a small farm in Ft. Worth with his two older brothers Cliff and James, all who have preceded him in death.  Bob is survived by the love of his life Wanda, his three sons and their wives David & Susan, Dan & Kathy, and Doug & MaryJane. His nine grandchildren Jennifer Wilson, Matt Voss, Kyle Voss, Sarah Voss, Emily Silva, Laura Wood, Robert Voss, Christi Boyles, and Thomas Voss.  Also, his 16 great grandchildren Claire Wood, Cole Wilson, Miles Wilson, Emory Voss, Sidney Voss, Elizabeth Boyles, Macy Wood, Reagan Voss, Jackson Silva, Solomon Boyles, Madison Voss, Nolan Silva, Brooke Wood, Kaitlyn Boyles, Brighton Voss, and Liliana Boyles.
Bob accepted Christ as his Savior at nine years old at Forest Hills Baptist Church.  He loved his childhood growing up filled with adventures on a farm with two older brothers to guide him.  During WWII he developed his keen fascination for airplanes. He graduated from Arlington Heights High School in 1949.
While in high school Bob met his lifelong love, Wanda.  They were married in 1950 in her family home in Ft. Worth. Bob entered the University of Texas and pursued his other love, airplanes, eventually receiving a B.S. in Aeronautical Engineering in 1954. Wanda received a PHTS (Putting Hubby Thru School) degree. After beginning work at General Dynamics in Ft. Worth he had the opportunity to work on orbital rocket bombers, kindling his interest in space flight. While there, their first son David Robert Voss was born.
In 1959, Bob accepted a position with the Army Ballistic Missile Agency at Redstone Army Base in Huntsville Alabama. The creation of NASA followed and Redstone became the Marshall Space Flight Center. Bob did design work on the Saturn I and Saturn V launch vehicles. Soon after moving to Huntsville their second son Daniel Steven Voss was born.
In 1961, Bob was selected to support the Golovin Committee in the study for the best solution of launch vehicles and orbital mechanics in order to achieve President Kennedy's lunar landing goal. In 1962, Bob was awarded a NASA scholarship to attend MIT as a Sloan fellow and received his M.S. in Industrial Management in 1963.  While in Boston, their third son Douglas Austin Voss was born.
From 1963-1969 Bob continued to work on Saturn applications and designs at Marshall and NASA headquarters. While at NASA headquarters he planned and managed the Phase A studies leading to the Space Shuttle program. In 1969, just prior to the first lunar landing, he moved his family to Houston to be part of the Space Shuttle team at JSC. He held several positions in program integration and program schedule management. In 1987, Bob retired from NASA as Division Chief over Space Shuttle Integration and Operations Program Control.  After retiring from NASA, Bob began a consulting career at Grumman and other NASA sub-contractors on various International Space Station projects until 2011.
Throughout each location, and across the years, Bob and his family were always actively involved in their local church.  In 1980 they joined University Baptist Church where he and Wanda still attend. Bob was a deacon for many years, taught Bible study classes, was active in the Bill Glass Prison Ministries, and the Ring of Champions mentorship program at the Harris County Youth Village.
In his later years, Bob often referred to himself as 'the blessed man'. And he was blessed. So too is his family. He will be remembered by us as a man who not only put Jesus first in his life, but made it a priority to pass his faith onward through his family. His heritage is to be remembered by his loved ones as a good and wise father, a caring and loving papa, and a proud and praying great grandfather. But most of all, he will be remembered as a truly devoted husband of Wanda.  The dear wife he loved so very deeply for over 72 years.  They are separated briefly, only to be reunited soon enough and together forever.
A celebration of life service will be held at 10am on Friday December 2nd in the main sanctuary at University Baptist Church located at 16106 Middlebrook Dr.  Houston Tx 77059.
In lieu of flowers, you may consider donations to M.D. Anderson Medical Center or University Baptist Church.