Robert Edward Thompson, Jr.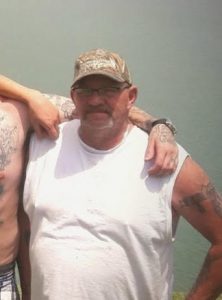 Robert Edward Thompson, Jr., 58, a resident of Pearland, TX for 43 years formerly of Akron, Ohio passed away January 4, 2020. Robert was born on May 11, 1961. He worked for Robison Metals Fabrication in Houston for over 10 years and loved to go fishing.
Robert is preceded in death by his parents, Robert and Elsie Thompson, Sr.; sister, Odessa Thompson and nephew Gerald Wayne Thompson.
Robert leaves behind to cherish his memories his wife of 34 years, Gina Thompson; daughters: Crystal Yabarra, husband Roland, Christina Thompson, Fiancé Gabriel Arreola and Chelsea Thompson; son, Christopher Thompson; 10 grandchildren; sister, Gidget Brister, husband Brian; brothers: Ray Arnold Thompson and Rocky Thompson, Sr., wife Debra.
GONE FISHING
I've finished life's chores assigned to me,
So put me on a boat headed out to sea.
Please send along my fishing pole
For I've been invited to the fishin' hole.
Where every day is a day to fish,
To fill your heart with every wish.
Don't worry, or feel sad for me,
I'm fishin' with the Master of the sea.
We will miss each other for awhile,
But you will come and bring your smile.
That won't be long you will see,
Till we're together you and me.
To all of those that think of me,
Be happy as I go out to sea.
If others wonder why I'm missin'
Just tell 'em I've gone fishin'