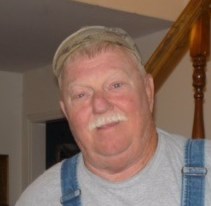 Robert Derrell Colvin, 68, of Hitchcock, passed away Tuesday, November 1, 2016, at his residence. Derrell was born June 9, 1948, in San Diego, California, to James and Doris Colvin.  Derrell served in the United States Navy, during the Vietnam War. He was an Arm Wrestling Champion, a body guard and a crane operator.
Derrell is preceded in death by his father. He survived by his mother, Doris Colvin; his wife, Patti Colvin; one daughter, Susan Walker and husband Brent; two sons, Michael Gardner and wife Dora, Jeffery Gardner and wife Tandi; one sister, Patricia Lee; one brother, Jimmy Colvin and wife Carolyn; six grandchildren, Joey Walker, Macy Walker Corey Walker, Levi Gardner, Madi Gilbert, and Brett Gilbert.
A visitation will be held from 1:00pm to 3:00pm, Tuesday, November 8, 2016, at James Crowder Funeral Home, La Marque.  A funeral service will follow at 3:00pm, at the funeral home, with Brother Buddy Herring officiating.