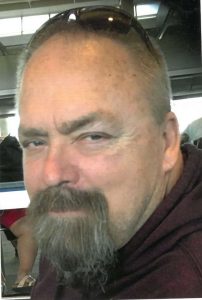 Robert Dale Wooley, 56, passed away on Friday, May 10, 2019 in Webster, TX.  He was born to Earl and Donna Wooley in Durango, CO.
Robert has been a resident of La Marque for over 55 years. Robert was a loving husband, devoted father, and proud grandfather. He was a distinguished master mechanic with a passion for further education and family prosperity. At the age of 45 Robert earned his GED and switched professions from the automotive industry to the oil and gas industry. Robert had a strong work ethic which he passed on to his 3 girls who adored him and will continue to strive every day to make him proud. Robert enjoyed being at the softball fields, riding motorcycles, restoring vintage cars, and spending time with the love of his life: Deana, his girls and his grandbabies! Robert's legacy will live on through the love of his family, the advice he gave, and the values he passed along the way.  Robert, Honey, Dad, Daddy, Pa Pa, Great Gee Pa, Brother, Bubba, Uncle, and Friend you will be forever missed!
Robert is preceded in death by his parents and father-in-law Glen Shifflett.  He is survived by his wife of 35 years,  Deana Wooley, 3 daughters: Lacey Marie Wooley, Jenna Michelle Cooper (Aaron), and Bailey Ann Wooley (Alex Jones); 2 sisters: Vickie Nallie (Patrick) and Marlene Schrull (Roger); sister-in-law Mary Ann Mason (Mike); mother-in-law Irene Shifflett; 3 brothers: Nickie Wooley (Alice), Michael Wooley (Rita), and Allen Carter (Wendy); 4 grandchildren: Madison Wooley, Landen Cooper, Grayson Wooley, and Lincoln Jones, as well as numerous nieces and nephews.
Honorary Pallbearers will be Ray Whaley, Tommy Nalley, Donald "Bubba" Cooper, Michael Wooley, Michael Mason, and Patrick Nallie.
A visitation will be held on Saturday, May 18, 2019 from 4:00p.m. to 6:00p.m. with a service immediately following from 6:00p.m. to 8:00p.m. at the James Crowder Funeral Home in La Marque.