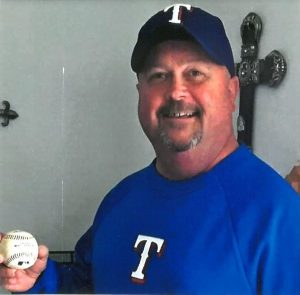 Robert "Bobby" Treadaway, 53, of La Marque, TX passed away on Monday, June 18, 2018 in Houma, LA.  He was born May 11, 1965 in Texas City, Texas to Floyd and Louise Treadaway.
Bobby was a graduate of La Marque High School class of 1983, or as he would say "the famous class of 83".  He worked over 30 years in the oil and gas industry and traveled all over the US with his job.
He enjoyed participating in charity cook-offs, BBQ was his specialty.  Bobby was an active member for over 18 years in the La Marque Little League Community with the Amoco Yankees, until he left in 1995 to coach Kealey in girls' softball for the next 10 years.  Friends and family are really going to miss Bobby's cooking.
Bobby is preceded in death by his parents and brother, Floyd "Joe" Treadaway, Jr. He is survived by his wife Elisa "Honey" Treadaway; daughter Kealey Treadaway (Louis Vasquez); son Manuel Garcia, Jr.; brother Michael Treadaway; four grandchildren: Hudson Vasquez, Mina Garcia, Aaleah Garcia and Mona Garcia; his sweet baby girl Dakota and numerous extended family and friends.
A Visitation will be Wednesday, June 27, 2018 from 5:00pm – 8:00pm at the James Crowder Funeral Home in La Marque with a service at 7:00pm with Pastor Doug McBrayer officiating.