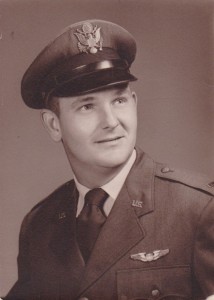 Richard Wayne Bateman, age 81, passed away on August 27, 2016, in Houston, Texas.  He was born on December 9, 1934 in Waco, Texas.  He is preceded in death by his mother, Ida S. Cooke.  Wayne is survived by his wife, Linda; daughters, Catherine Gilliland (Michael), Donna Hogg (Robert), and Cynthia Shue; son, Andrew Bateman (Amanda); stepsister, Jan Hart; ten grandchildren; and eleven great grandchildren.
Wayne always loved airplanes and wanted to be a pilot.  He attended the University of Texas, where he earned a bachelor's degree and was commissioned into the United States Air Force as a second lieutenant and immediately began flight school.
He returned to Texas A&M University and earned his Master's Degree in Industrial Engineering.  (He was often asked who he rooted for when the two schools played each other.  He'd reply "It depends on where I'm sitting and who has the ball.")
Wayne served 21 years in the Air Force with two tours in Vietnam  He flew the O2B (9th Air Commando Squadron) and the KC-135 in the Air Refueling Squadron.
Wayne was awarded numerous medals for extraordinary achievement, including two Distinguished Flying Crosses, the Bronze Star, the Meritorious Service Medal, two Air Medals, and the Air Force Commendation Medal.
After retiring from the Air Force in 1978, Wayne was a public works director and project manager on various sites.
During his years in final retirement, he loved spending time with his family, valued his friendships at the American Legion, and continued a lifelong service and dedication to others.
Major Richard W. Bateman (Ret.) will be interred at Fort Sam Houston National Cemetery in San Antonio, on Friday, September 2nd, following a noon viewing at the Sunset Funeral Home in San Antonio.  A memorial service will be held at the American Legion Post 490, 11702 Galveston Road, Houston, Texas, on Sunday, September 4th at 2:00.
In lieu of flowers, those wishing to make a memorial donation in Wayne's name may do so to The USO, P.O. Box 96860, Washington, D.C.  20077-7677.