Richard Mate Della Santina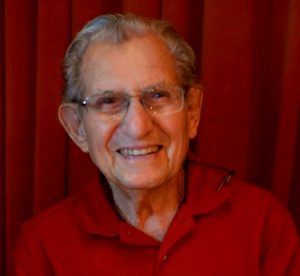 Richard Mate Della Santina, 95, passed away on October 10, 2019. Richard was born May 22, 1924 in San Francisco, CA to Jacob and Messias Santina. Richard served his country in the U.S. Navy during World War II in the Pacific.
Richard met the love of his life, Dorothy in College Station, Texas in April 1944 on a blind date while he was in training as a U.S. Navy radio operator.  They dated for two years and were married March 9, 1946.
He was a resident of Pearland, TX for 52 years and was of the catholic faith. For 37 years he worked for Trans Continental Gas Pipeline Company which later became Williams Petroleum Oil and Natural Gas Company in Houston, Texas.
Richard was an avid Houston sports fan, a little league coach, and played tennis till the age of 89. Staying active and helping others was his passion.  Richard devoted countless hours promoting charitable giving campaigns for the United Way of Greater Houston, loved his garden, stamp collecting, oil painting, and lengthy daily walks.  Above all, Richard loved his family deeply, saw the best in others, and lived each day to the fullest.
Richard is survived by his beloved wife of 74 years, Dorothy Santina; daughter, Nancy Seaman, husband Randy; son, Gary Santina; grandchildren: Kelly Jeffcote, husband Scott and Robin Greene, husband Aaron; great-grandchildren: Austin Greene, Mason Greene and Reagan Jeffcote.
Visitation will be from 6-8 pm Monday, 0ctober 14, 2019 at Crowder Funeral Home in Pearland, Texas. Funeral service will begin 10 am Tuesday, October 15, 2019 in the chapel of Crowder Funeral Home. Followed by a graveside service at 2:30 pm at Wellborn Cemetery in Wellborn, Texas.