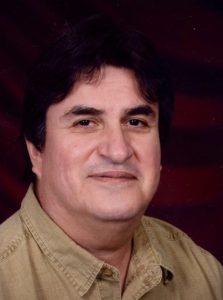 Richard M. Ibarra, 55, resident of Santa Fe, Texas since 1968 passed from this life, Thursday evening, September 29, 2016 at his home surrounded by his family. Richard was born on September 20, 1961 in San Antonio, Texas to proud parents, Porfirio and Mary Ibarra.
He spent his career working as an operator in the petroleum industry at BP and Marathon. Richard enjoyed fishing, deer hunting, working on cars, and especially crawfish boils. He has been a member of St. John the Baptist Catholic Church for seventeen years. Richard was proudest of his loving family and many friends.
Richard was preceded in death by his father. He leaves to cherish his lifetime of memories, his wife, Heidy Perez Ibarra; two sons, Richard Ibarra, Jr. and Mike Ibarra; one daughter, Stephanie Ibarra; his mother, Mary Ibarra; two sisters, Martha Handy and husband Ralph and Sandra Andrich; as well as his two brothers, George Ibarra and Porfirio Ibarra III.
Visitation will be held from 5 p.m.- 8 p.m. with a Rosary beginning at 6:30 p.m. on Monday, October 3, 2016 at Crowder Funeral Home in Dickinson, Texas.
In his honor, a Funeral Mass will be held at 11:00 a.m. Tuesday, October 4, 2016 at St. John the Baptist Catholic Church, 110 E. South St., Alvin, Texas with interment following at Mt. Olivet Catholic Cemetery in Dickinson.