Richard Joel Christie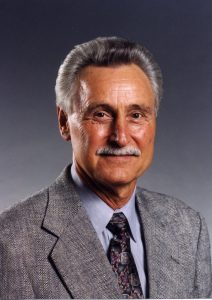 Joel was born in Italy, TX on 10-16-1934 and after a lengthy battle with Alzheimer's, he went peacefully to be with our Lord Saturday, September 16, 2017.
He was preceded in death by his parents Omar and Clara Christie, and his son-in-law Roland LeBlanc.
Survivors include his wife Pat, 3 children, Annette LeBlanc, Karen Morris (Allen), Rick Christie (Tracy) and 2 bonus children Cindy Longoria and Wendy Pucek (Ronnie), plus 9 grandchildren and 7 great-grandchildren.
Joel had a 47-year career working with the Labor Unions which began in 1953 at Sinclair Refinery. Holding various positions through the years, he was President of Harris County AFL-CIO, he then became O.C.A.W. International Union Rep, later he was also Regional Director of the Gulf Coast Region and was elected OCAW International Secretary-Treasurer in 1997.  After the merger between OCAW and the Paperworkers, he became PACE International Financial Secretary until Retirement in 2000.
Joel volunteered at Clear Creek Community Church and at Mainland Medical Center where he was known as one of the popular "popcorn" guys.  His passion was woodworking and it was said that he could make anything if he had a piece of wood.  Spending time with family, enjoying kids sporting activities, playing the harmonica and piano were high on his lists.
Always willing to help anyone anytime, he had a heart as big as Texas and was loved by all and will be greatly missed.
A visitation in his honor will be held 12:00 – 1:00 pm, Wednesday, September 20, 2017, Crowder Funeral Home, Dickinson, with a Celebration of Life following at 1:00 pm.